More News
Sound Is No Longer Supported by the Toon Council
Posted by Sir Max on April 1, 2019 at 4:00 PM
Toons of the world -- I'm here to bring you some important news from the Toon Council. Have you ever been taking a nap in Dreamland, just to be woken up by an AHOOOOGA howling into the night? Have you ever had your sound on just a little too loud when your friend decides to use an Opera Singer? Do you ever inexplicably end up in bizarre, almost conveniently written for entertainment situations? If you're like me, all of these things and more have happened to you. That's why the Toon Council is officially ending support for the sound gag track.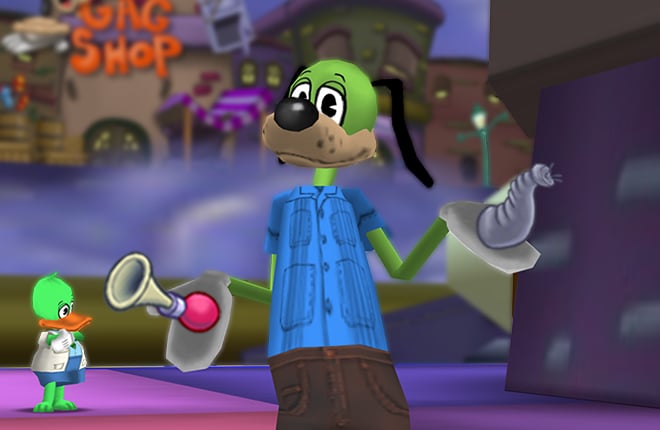 In addition to the noise complaints in Donald's Dreamland and the rising cost of Fog Horns, Loony Labs studies have shown that the sound gag track has become detrimental to Toontown. Don't believe me? I've got one of the finest Scientoons in all of Toontown here to provide his insight into the effects of sound gags all across Toontown. Take it away, Doctor Dimm!
"Hello, my name is Doctor Dlimm! Is that supposed to say Dimm? Aha, yes, I am Doctor Dimm! My pay-ten-ted ree-search...says that sound gags can cause serious damage to Toon health. This is because of... 'improvise a big word here.' Say, Sir Max, Did you want me to fill in something right there? Alright, let's start over. This is because of... Uh... 'Divisionagonal-ducktosis.' Caused by sound waves. Now, how much longer do you want me to read from this script, Sir Max?"

Oh, never mind him. The sound waves must have given him a case of divisionagonal-ducktosis, too! Anyway, starting next week, Gag Shops will no longer be selling sound gags. The "Sound" tab of the Options Panel will also be removed, just for good measure.
Until then, Toon Troopers will be patrolling Donald's Dreamland to make sure that these sounds no longer disrupt anymore of my -- uh, our -- naps.

April 1, 2019 [ttr-live-v4.1.19]
General
• Engine Downgrade! In order to restore all of the nostalgic bugs that we all love so dearly, Toontown Rewritten now uses its original build of Panda3D from 2002.

Playgrounds
• Removed Acorn Acres, as it was found to be too confusing for new players looking for Bossbot Headquarters.
• Bossbot Headquarters now features MiniGolf, Fishing Docks, and an Oil Geyser.
• Informed every resident of Oak Street that there is, in fact, a Cog Headquarters just a few steps away.

Battle
• Removed sound gags from Toontown.

Audio
• Disabled all game sound, just to make sure that the sound gags are gone for good.

Happy April Toons Week, Toontown!
---
Comments
Sorry! Comments are closed.
---
---
---
---
---
---
---
---
---
---
---
---
---
---
---
---
---
---
---
---
---
---
---
---
---
---
---
---
---
---
---
---
---
---
---
---
---
---
---
---
---
---
---
---
---
---
---
---
---
---
---
---
---
---
---
---
---
---
---
---
---
---
---
---
---
---
---
---
---
---
---
---
---
---
---
---
---
---
---
---
---
---
---
---
---
---
---
---
---
---
---
---
---
---
---
---
---
---
---
---
---
---
---
---
---
---
Back To Top