More News
A Very S.I.L.L.I. Day
Posted by The Fissiontons on February 26, 2019 at 11:59 PM
Fissionton, look.
What's this? We're not only logged into Toontown's "Social Media" accounts...
Ah! But also their blog post announcement doohickey.
Salutations, Toontown. For those of you whom may not remember me, my name is Doctor Fissionton, and I'm joined today by my colleague: Doctor Fissionton. It's the 26th of the month, of course, which means we're here to discuss today's anomaly!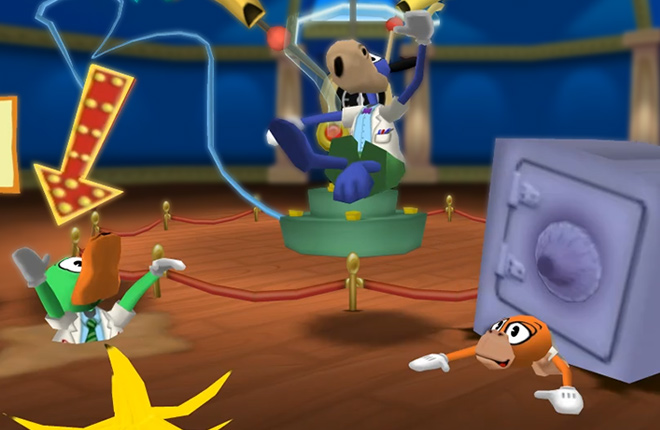 Do you think it was a tad too theatrical?
Nonsense, it's a grand finale.
Yes, plus it's been one year since they first met us.
Much longer since we met them.
Now Toons, as you may recall, the 26th of every month has resulted in some sort of anomaly of time thanks to a certain Doctor. Some have been too small to notice, and some have been hard to miss. It's a ripple effect caused by his initial time travel experiment. Today's anomaly, for example, put every Toontown Social Media account into the control of the S.I.L.L.I. (Scientists Interested In Laugh Levels Increasing).
Not that we would ever suggest taking advantage of a situation such as this.
No, not at all. Dimm, please step away from the terminal!

Some of you may ask: What's Fissionton up to? Why post the S.I.L.L.I. test video? What has he been doing all of this time?
Some of them are already on the verge of an answer.
I knew that giving the Doctor a puzzle would put it in their hands.
With patience, they'll understand what we've been working towards since the beginning.

Toontown, brace yourself. The Final Plan is well underway. Loony Labs will keep you updated with their newly-found social media access. We're nearing the turning point in Toon History. This minute may mark the end of the 26th, but today's anomaly is far from over. See you soon.


---
Comments
Sorry! Comments are closed.
---
---
---
---
---
---
---
---
---
---
---
---
---
---
---
---
---
---
---
---
---
---
---
---
---
---
---
---
---
---
---
---
---
---
---
---
---
---
---
---
---
---
---
Back To Top