More News
The Twenty-Sixth Test
Posted by The Fissiontons on February 28, 2019 at 11:59 PM
Hello, hello. It's Doctor Fissionton again. You know, the one who is two? Rippling in and out of time? 26 million Silly Particles? Posted on the Toontown Blog two days ago? Yes! That's me.
By "me" you must mean "us."
When you're not bound by time, why bother being bound to grammar?
I suppose there are more pressing things to worry about.
Yes. Why don't we show them today's test?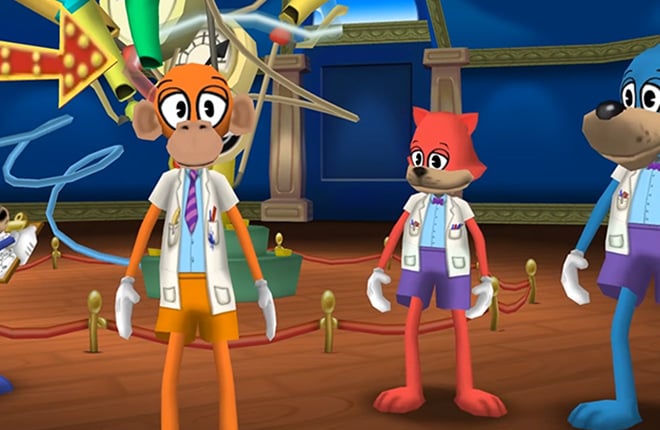 Ever since the 26th of this month, an anomaly has been tearing through Toontown. It's the reason we're having to write a post so late -- ever since the anomaly led the Loony Labs Scientoons to start using social media, all of the computers have been occupied for every moment of the day! As you may have noticed, however... We've had a bit of a hand to play in the events of this anomaly.
I must say, their collective effort has been quite outstanding.
The best and brightest are piecing our puzzles together in record time!
All of these years of training truly have paid off for them.
They may even be starting to understand what we have been working towards.

Though, this puzzle has proven to be harder than the others.
It'll be much easier once we realized that we already dotted their a's for them.

With each step towards The Final Plan, the ripple becomes closer to stabilizing. Loony Labs is learning more about the Tooniverse, the anomaly, and the silliness behind it all. Silliness is a powerful entity, with effects even I -- we -- could not have foreseen.

Fissionton, take a look under this microscope for a moment.
Is that dust on the lens, or is that what we're looking for?
If we screen it correctly, it'll make a contrasting difference.

The hour is growing late, and Doctor Surlee will certainly want to run more tests early in the morning. It's both past and before our bedtime, which means it's as good of a time as any to leave you to it.
Don't worry, you'll be back here soon. Best of luck.
---
Comments
Sorry! Comments are closed.
---
---
---
---
---
---
---
---
---
---
---
---
---
---
---
---
---
---
---
---
---
---
---
---
---
---
---
---
---
---
---
---
Back To Top