More News
Gone Fission: Part One
Posted by The Toontown Team on March 3, 2019 at 11:00 AM
If you've been keeping a close eye on Toontown this week, you'll know that something big is happening! On Thursday, this all came to a boiling point when Toons discovered Part One of a two-part web comic called "Gone Fission." Read on to learn more, then click on the image below to view the comic!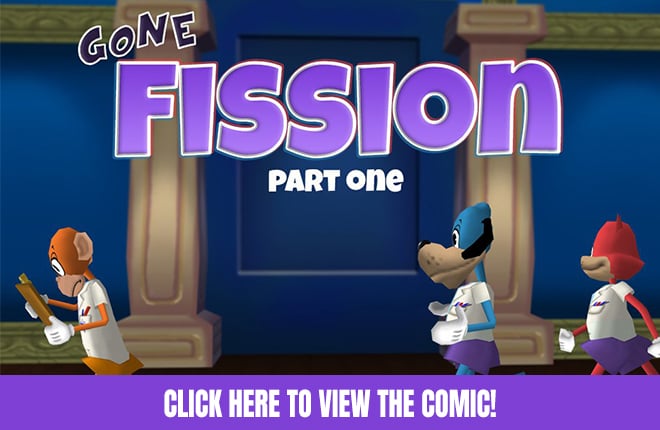 So, how did we get here? Keen-eyed Toons may have noticed some very strange happenings on social media over the past few days. Thanks to the anomalies of the 26th and the meddling of Doctor Fissionton, Loony Labs has taken over Toontown's social media!
In addition to the social media silliness, several videos were posted on the Toontown YouTube channel. These videos seemed like simple Silly Meter tests, but they turned out to be much more! Some super smart sleuths across the Toontown community found that each video contained a small puzzle placed by The Fissiontons, which led to the comic that you'll find above.

What comes next? It's hard to say, but we're certain that more Silly Meter silliness will be involved. Based on the last panel of the comic, it looks like we'll find out more on March 6th!


---

Lastly, let's end this post to a huge shout-out to our puzzle solving community. We love putting together these Alternate Reality Games (ARGs) for you to solve, and we hope that you have as much fun solving them as we have creating them!
If you find these mysteries intriguing, you should check out the Toontown Rewritten subreddit and the Toontown Rewritten Discord Server, which are two communities full of dedicated Toons who worked together to solve this puzzle. Join now so that you can be involved with the next one!

NOTE: These communities are not officially sponsored by Toontown Rewritten. We trust the moderators of these communities and know that they maintain a family friendly environment, but we do not manage either of them. Ask a parent before joining!


---
Comments
Sorry! Comments are closed.
---
---
---
---
---
---
---
---
---
---
---
---
---
---
---
---
---
---
---
---
---
---
---
---
---
---
---
---
Back To Top