More News
Relive Doomsday LIVE with the Toontown Team
Posted by The Toontown Team on September 29, 2018 at 10:00 AM
Today at 1:00 PM Toontown Time (PDT), the Toontown Team is going LIVE in celebration of Toontown Rewritten's 5th anniversary! To celebrate, we'll be reliving the Toon Council Presidential Elections event, also known as Doomsday, which will be the first time the event has been seen since 2014!
Click the video below to watch the stream when the time comes, or check out the YouTube and Twitch watch pages.
Watch on YouTube Watch on Twitch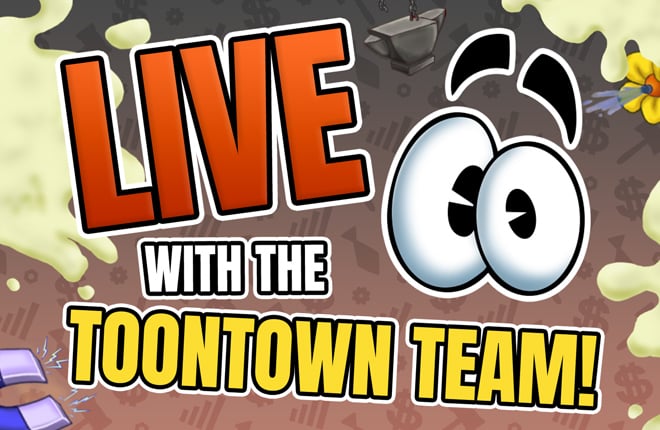 To help catch you up to speed, Doomsday was the first major in-game event that brought the Cogs to Toontown and marked the end of Toontown Rewritten Alpha. While only members of the Toontown Team will be able to participate during this stream, you can still be sure to TOON in from your estates with a super sized bag of popcorn and watch as the silliness unfolds!

This livestream is part of our grand ToonFest celebration for Toontown Rewritten's 5th anniversary. After the stream is over, hop in game and check out the ToonFest Event Area before it's gone on October 20th.
If you miss out on the livestream, don't worry -- you can still watch a recording of the event using the links above. Hope that you enjoy this blast to the past!
---
Comments
Sorry! Comments are closed.
---
---
---
---
---
---
---
---
---
---
---
---
---
---
---
---
---
---
---
---
---
---
---
---
---
---
---
---
---
---
---
---
---
---
---
Back To Top