More News
Jack O' Kazam's Spooktacular Halloween
Posted by Jack O' Kazam on October 25, 2018 at 12:00 AM
This year's different. I see it in the skies.
It's time I see Toontown with my own two eyes.
Hallow's Week has arrived; listen and heed this verse.
For tonight is the night of The New Spooktown Curse.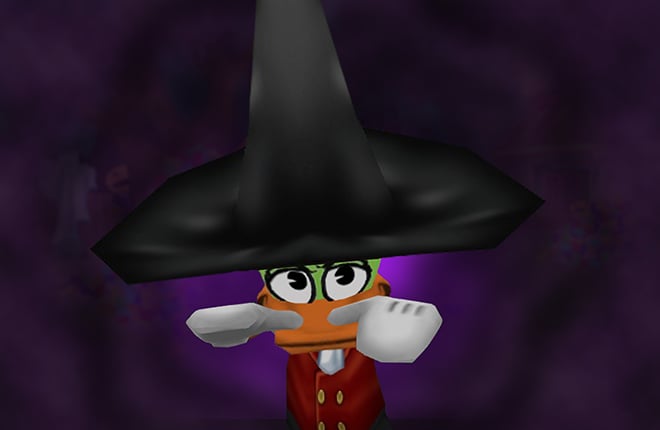 You may have seen me before, yet only in brief.
This year will be different, I will personally bring grief.
To all of the town, if you ever so dare,
In Toontown Central, you will find yet a scare.
For I will be out there, with my new minions in tow,
The town is all lit with the eerie Halloween glow.
Approach me at once, there's no need for a mask!
My Tricks and my Treats come in the form of a ToonTask.
All around the town, Jack-o-Lanterns brought to life,
With a harsh pumpkin scent, the town will be rife.
The game of Trick or Treat, only my Pumpkins truly know.
No matter how you slice it, your jellybeans will grow.
For what will those beans be used on this year?
Perhaps a Spooky Purple color, to spread that holiday drear?
From Clarabelle's Cattlelog, of which I invaded,
The Spooktown Curse cannot be evaded.
I'm not yet done -- there's still plenty reason to fret!
Spellbound Bags have returned, rounding off this spooky set.
These bags contain my spells; there's no telling what you'll find.
The effects even I don't know, though they'll surely put you in a bind!
So come, one and all, if you're ready for a treat,
Completing my trials will truly be a feat!
The skies grow dark, the curse is here!
Come down to The New Spooktown if you're ready to face your fear.
October 25, 2018 [ttr-live-2.2.5]
Halloween
• The Spooktown Curse has grown spookier than ever before!
• All of the Candy in Toontown has vanished! You can talk to Jack O' Kazam in Toontown Central to begin his brand new Trick or Treat ToonTask.
• A new Toon Color has hit the Cattlelog! For a limited time in your next issue, grab "Spooky Purple" to embrace the Spooktown Spirit.

Cattlelog
• Fix typo in Sombrero accessory name.

Playgrounds
• Fireflies have invaded Donald's Dreamland! These little creatures are a fierce ally of the already prevalent butterfly threat in Toontown Central.
• Rewrote Butterfly logic to squash several small bugs.

Battle
• Adjusted various Toon and Cog attacks to appear more fluid, and fix visual bugs.
• Gags such as the Big Magnet and Megaphone now fit snugly in Toon's gloves.
• Breathe easy! Toons will no longer stop breathing when certain Toon-Up gags are used.
• Fixed a crash related to the reward panel.

Cog HQ
• Fixed an issue that caused the Sellbot Vice President's gears to take no Laff from Toons upon collision.

Parties
• Fixed various cannon-related game crashes.

---
Comments
Sorry! Comments are closed.
---
---
---
---
---
---
---
---
---
---
---
---
---
---
---
---
---
---
---
---
---
---
---
---
---
---
---
---
---
---
---
---
---
---
---
---
---
---
---
---
---
Back To Top