More News
The Grand Finale Fiasco | ToonFest 2018
Posted by Riggy Marole on October 14, 2018 at 12:00 PM
Self-propusionin' rocketeeries… Check. Fire-resistin' multicolorin' confetti… Check. Hype-inducin' music machinery… Check. Chocolatey Token Doubley-doohickey… Check.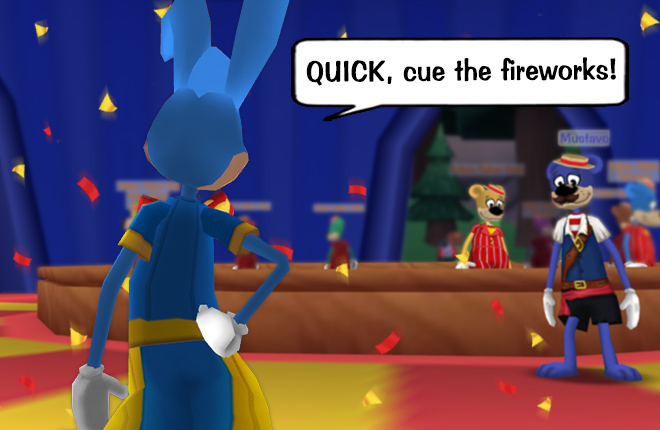 Alrighty fellas, I think we're as good to go as a hungry rabbit in a magician's hat! Token Takers, I know that you'se all been a bit scared of the safety checks that the Toon Council has been imposin' on us, callin' us a "hazard o' safety" and whatnot.
Today, we're makin' sure that these here fireworks are completely safe-a-roony. I even bought the high quality duct tape for this! From now until midnight on October 19th, we'll be runnin' Finale Fireworks every three hours across Toontown! We gotta keep dem' fireworks in tip-top shape, or we'll never be hearin' the end o' it from the press!
But what if things don't work out yasay? Ol' Rigmund comes prepared. If there's one thing I'm the best at, it's bribin' people. HAH! I'm hopin' nobody else heard that last part. Anywho, to celebrate the last week of ToonFest, we'll also be doublin' all ToonFest Tokens rewarded. That should be makin' the population pretty happy, regardless o' what happens with these fireworks.
Remember, this entire conversation is con-fee-den-tea-al. These are prime Token Taker secrets, I tell ya! What's that you say, Tammy? Nonsense, none of those Toons over there can hear us talkin' secretly. Wait, does that bear taking notes look like Toon Trooper Mustavo to any of ya's?
QUICK, cue the fireworks! DISTRACT THEM with colors, explosions, and double tokens all week long! HAH HAAAA!
---
Comments
Sorry! Comments are closed.
---
---
---
---
---
---
---
---
---
---
---
---
---
---
---
---
---
---
---
---
---
---
---
---
---
---
---
---
---
---
---
---
---
---
---
---
---
---
---
---
---
---
Back To Top