More News
Celebrating Five Years of Toontown Rewritten! | ToonFest 2018
Posted by The Toontown Team on September 19, 2018 at 2:00 PM
Five years ago on September 19, 2013, Toontown Online closed its doors. A message appeared on screen -- one that players normally would hope they would never see again, but in this instance wished they could see it just one more time. "Your internet connection to the servers has been unexpectedly broken."
Thankfully, we live in a world where that disconnect message was far from the last. Just seconds later, Toontown Rewritten was officially announced, and we now celebrate FIVE YEARS of a revival that has proven to be like no other!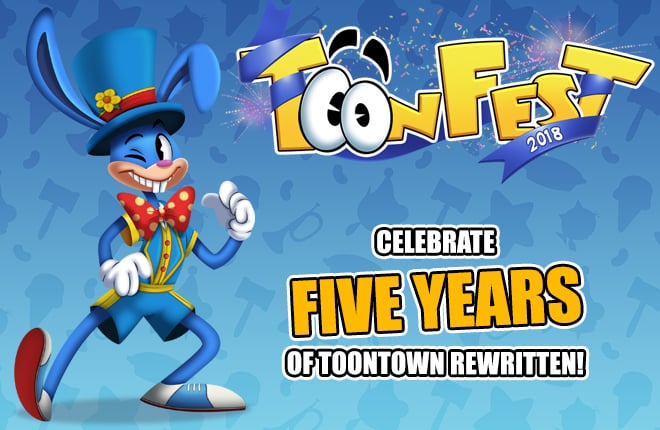 By all circumstances, Toontown Rewritten shouldn't exist. It especially shouldn't have an annual convention, nearly two million registered accounts, and thousands of daily active players. The reality is: It does, and we never want to take that for granted.

That's why we're inviting you to jump into Toontown between now and October 20th to party with us in celebration of Toontown Rewritten's fifth anniversary. Today marks the beginning of our annual in-game event, ToonFest 2018!

To enter ToonFest, head over to the special event area in Chip and Dale's Acorn Acres or click on the red ToonFest teleport button on the top right of your screen. Here's just a few of the things to expect during this year's event:

---
Meet Riggy Marole
It's hard not to love Riggy Marole, the absolutely insane host of ToonFest who keeps things lively throughout the event. You can expect to see a blog post from him soon! In the meantime, he'll be strolling around ToonFest talking to Toons and generally being a bit of a rascally rabbit.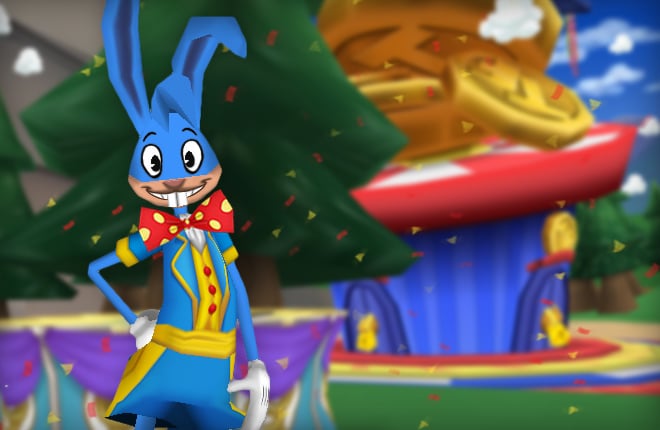 ---
Earn Exclusive Prizes
One of the most exciting parts of ToonFest are glamorous Token Takers, located within the ToonFest tower and at pop-up booths around the area! These Token Takers will sell you all sorts of exclusive items, from limited time accessories to portable pies to experience multipliers! No matter what kind of Toon you are, we've got a bunch of prizes in store for you. Earn ToonFest tokens by playing minigames in the area, and keep your eyes peeled for new ways to earn as the event goes on!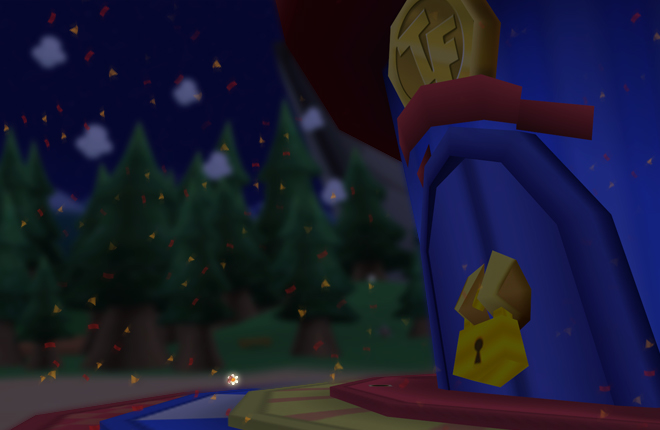 ---
Bigger and Better
ToonFest isn't just here for the weekend. We'll be partying all month long, and releasing updates and blog posts along the way to keep the fun going! Riggy Marole will be delivering you all of the latest ToonFest news, along with ways the event will get bigger and better as it has ever year!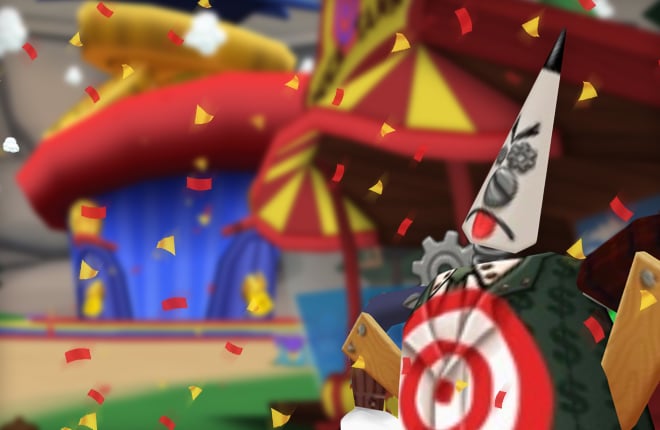 ---
Blast to the Past
To celebrate how far Toontown Rewritten has come in these five years, for the first time ever the Toontown Team will be hosting a special livestream to play a remastered and updated version of the "Toon Council Presidential Election" event, which was available at the end of Toontown Rewritten Alpha in 2014.
Due to technical limitations, this event will only be available to watch rather than play. However, if there's high demand after the livestream, we may rework this event to be playable by anyone in the future.
"TOON" in on September 29 at 1PM Toontown Time (PDT) to watch this live event with commentary from the Toontown Team! More details will be posted on the blog next week.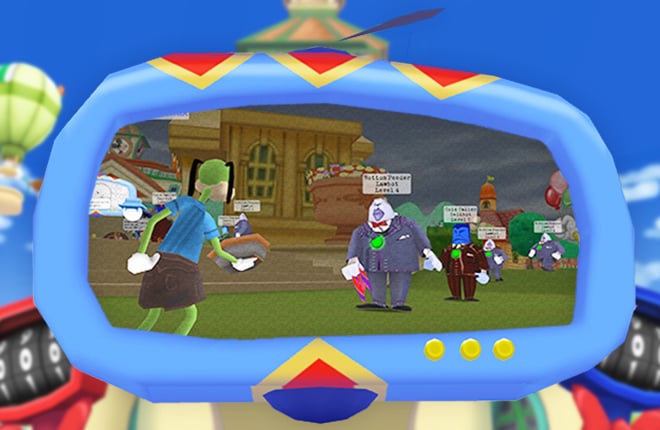 ---
ToonFest is now available to play by visiting the special event area in Chip and Dale's Acorn Acres, or by clicking the red ToonFest teleport button located at the top right of your screen. Go enjoy the fun before it's gone!


Thank you all so much for FIVE YEARS of Toontown Rewritten!
You ARE Toon Enough!

---
Comments
Sorry! Comments are closed.
---
---
---
---
---
---
---
---
---
---
---
---
---
---
---
---
---
---
---
---
---
---
---
---
---
---
---
---
---
---
---
---
---
---
---
---
---
---
---
---
---
---
---
---
---
---
---
---
---
---
---
---
---
---
---
---
---
---
---
---
---
---
---
---
---
---
---
---
---
---
---
---
---
---
---
---
---
---
---
---
---
---
---
---
---
---
Back To Top