More News
Sneak Peek: Upgrades to Toon T.A.G.S.
Posted by Mustavo on September 15, 2018 at 2:00 PM
Heya, pals! You've probably never seen me 'round these parts formally, but I get around. They calls me Mustavo, the Toon Trooper. I'm a bear, one with a Mustache, formerly a token taker. But that ain't all there is to my personality! I've got aspirations in life, ya see. Today I'm here to give ya's what some may call a "sneak peek" of what's coming to Toontown.




Over a year ago, the Toon Council brought me on the scene to assist with various tasks to make Toontown a nicer place. My first quest on the job? I fixed up them ol' Speedway screens and made em' work as they should. Ever since then, I've been watchin' the speedway and I noticed that between racing, people there are doin' a whole lotta talkin'.
For my next project, I asked my good friend Doctor Dimm if I could look into improvin' the ol' Toon T.A.G.S. (Totally Awesome Graphic Simulation) that Loony Labs pioneered those years back. He gave me the go ahead, but he seemed a bit preoccupied. I guess that Silly Meter is takin' up all of his time!
Anyhow, I got to work concocting the latest upgrades to the T.A.G.S., and boy do I think you're all gonna like this one. Here's what I did: I took a little bitta' dis-cord, I took a little bitta' dat-cord, I threw em' all together in who knows which ways, wop-bop a loo-bop a lop-bam-boom, there it went! You'll be able to see precisely where all your friends are in Toontown from the Toon Detail Panel, whether they're on Silly Street or fighting the Chief Justice!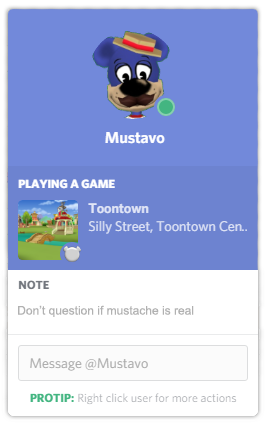 But that ain't all I've done. When I was lookin' through all the cords I had available to use, one in particular piqued my interest. It was a strange thing I tell ya, it glowed with an eerie blue light. I fed some data into it, and lo and behold it was hooked up right into my Discord account!
Toontown Discord Servers have grown to be some of the most Toontastic community hubs, and the Toon Council was all for supporting it. As of next update, you'll be able to see Toon Details in Discord for anyone playing the game who has the featured turned on. In the future, you might even look forward to being able to jump right into the Tooniverse with your Discord friends as well!
If you're o'er the age of 13, have yer parental's permission, and want to join a Toontown Discord server: I'd recommend checking out the /r/ToontownRewritten Discord which the Toon Council has found to be a safe and suitable place for Toons.
NOTE: This Discord server is community-ran and not officially sponsored by Toontown Rewritten.
That's all for this bit 'o "sneak peek." I better get back to pursuerin' my other aspirations! I think next I want to go diveskying. You can catch these upcoming features in the next update coming soon to Toontown. And don't forget, ToonFest starts on September 19th!
---
Comments
Sorry! Comments are closed.
---
---
---
---
---
---
---
---
---
---
---
---
---
---
---
---
---
---
---
---
---
---
---
---
---
---
---
---
---
---
---
---
---
---
---
---
---
---
---
---
---
---
---
---
---
---
---
---
---
---
---
---
---
---
---
---
---
---
---
Back To Top