More News
Better than a Rubber Duck Convention
Posted by Doctor Dimm on June 22, 2014 at 2:00 PM
I appear to be pressing these little typing things right now to create sentences on a virtual monitor to be transmitted across the globe via blog post. Wowza! This better be good, because the Labs are having me miss the Rubber Duck Convention for this post.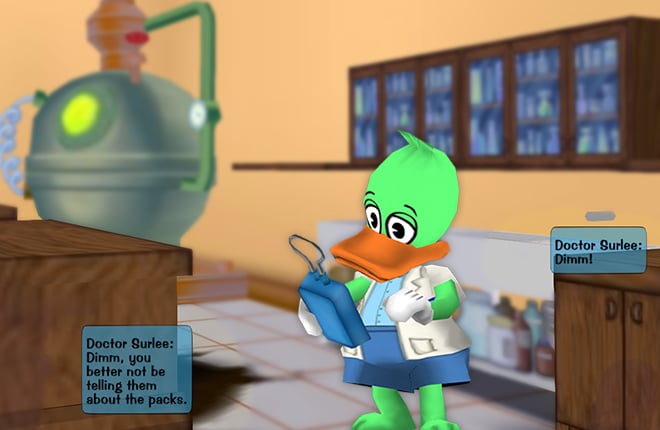 Annnnyhoo, the reason they're having me up here is to advertise our new
Toon T.A.G.S.
(Totally Awesome Graphic Simulation)
Update
. Every Toon in Toontown uses it, which means plenty of you will be excited to hear about the new features! Let's see, ermm... Hang on, just have to find my notepad.
Aha! So, first feature: They'll no longer block your view! Our complaint department has complained about your complaints for quite a while now, so we decided to check it out. Turns out I just spilled a bit of grape juice on the marginification magnifier and got it all stuck up in the center. I'd apologize, but there are never
any
circumstances in which you should apologize for grape juice. A duck's gotta have his grapes.
Next up we have the largely coveted tap-able whispers. Save the extra five seconds of opening your friends list and pressing the "Whisper" button by being able to just tap the whisper itself to reply! Toon T.A.G.S. enthusiasts out there I'm sure are having a fit of excitement right now -- with good reason. Just picture the
amazement
of --
Okay, nope. Can't do it. Yes, we have a Toon T.A.G.S. Update. How am I supposed to make that exciting? Bah, I always get stuck with these boring ones. There's
plenty
of strictly confidential things Loony Labs has been working on like the Anti-Cog Control Hat, Propeller Packs, that weird canvas with the giant mechanical glove in Surlee's office, some sort of Silly Meter thing... But of course, I'm not allowed to even mention the names of any of that stuff. Strictly classified! No peeps here. Much more exciting than Toon T.A.G.S., though.
June 22, 2014 [ttr-beta-v1.2.7]
Maintenance:
• Overall performance and stability enhancements

Bugfixes:
• Properly fix a server crash relating to friends
• Fix a server crash when buying clothes from Tailors
• Fix doors on the Donald's Dreamland Toon HQ
• Correct a grammatical error on the Sellbot HQ ToonTask

Tweaks:
• Improve TNT throwing animation

Features:
• Re-enabled tailors
• Toon T.A.G.S. have received an update!


• Whispers can now be clicked on to reply to the message
• Added widescreen support for margins (In the future, margins will be calculated based on how many pixels are shown. Right now they are at a fixed amount.)



June 22, 2014 [ttr-beta-v1.2.8]
Maintenance
• Emergency fix for a fishing bug that would cause a district reset

---
Comments
Sorry! Comments are closed.
---
---
---
---
---
---
---
---
---
---
---
---
---
---
---
---
---
---
---
---
---
---
---
---
---
---
---
---
---
---
---
---
---
---
---
---
---
---
---
---
---
---
---
---
---
---
---
---
---
---
---
---
---
---
---
---
---
---
---
---
---
---
---
---
---
---
---
---
---
---
---
---
---
---
---
---
---
---
---
---
---
---
---
---
---
---
---
---
---
---
---
---
---
---
---
---
---
---
---
---
---
---
---
---
---
---
---
Back To Top