More News
A Bit About Us
Posted by The Toontown Team on June 17, 2014 at 2:00 PM
You know the Muffin Man. You even know Dasher, Dancer, Prancer, Vixen, Comet, Cupid, Donner,
and
Blitzen! That's a lot of people. Err - animals? Sentient beings?
Look, the point is that you know quite a lot of things. But do you know the TTR Team?
Bloomberg News
published an article today that gives you a little bit more insight on who we are, what we do, and our goal for Toontown Rewritten. It's definitely worth the read! Just ignore the boy in that picture there -- he's a bit of a goober. You might know him as a certain guy named Sir Max.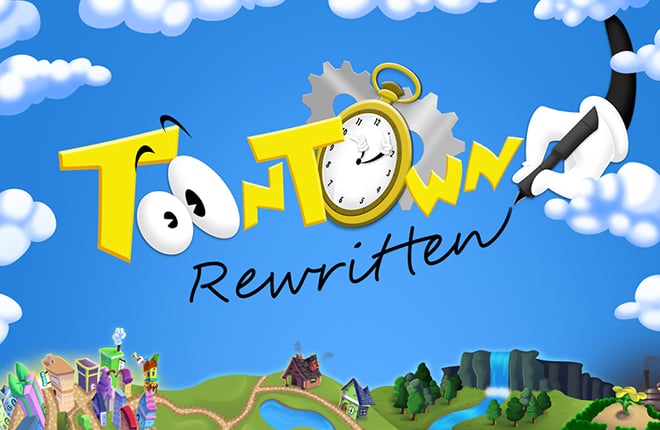 But really, although you know our goal, who is the TTR Team? You've seen plenty of posts from us over the course of Toontown Rewritten's lifetime, but those of you who aren't the most active in the community or just recently began following Toontown Rewritten may not know much about us. This post will hopefully answer a few of your questions!
So seriously, who is the Toontown Rewritten team?
Giving you a bio of every single team member would take up too much of our precious character limit, so we'll save that for another time. To summarize: We're a bunch of nostalgic high school and college students (For the most part, anyway) hoping to bring life back into this game that we've all kept close to our hearts for all of these years, as well as earn some experience for the future. We don't have a "base of operations" or an office to visit -- we're scattered all around the world and working in our free time. All of us are very close to each other despite the physical distance between us, and absolutely love working on the game together. We really couldn't have asked for a better team.
How do you plan on keeping the game safe and fun with such a small team?
Fun? That's the least of our worries! As we demonstrated with the Toon Council Presidential Election, we certainly have some tricks up our sleeve in terms of new content. We aren't just trying to revive Toontown, but we want to bring life back into it and continue the legacy that Disney began.
In terms of safety, that is an even bigger priority than fun. In addition to our 25 team members, we have been expanding our support team with mature volunteers from around the community who we trust can keep the game in tip-top shape. Just this week we've added plenty of new support members to keep up with the rush of the introduction of the PlayTime system. Toontown has always been a respected place by parents and kids alike to be safe while still maintaining the perfect level of fun, and we are going to do everything we humanly (tooningly?) can to make sure we not only preserve that image, but make it better than ever before.
How do you plan to keep the game running? Can I donate/pay/give/offer money to help you?
We're volunteering to keep this game alive, which involves much more than development. We pay out of pocket for our servers and other expenses, and we are perfectly fine where we are with that. While we know that you want to do your part to help -- don't worry about it! We refuse any form of payments or donations, and we refuse to request it in the future. (That includes other forms of donations such as gameservers, virtual currency, etc.) Toontown Rewritten will always be free for everyone. Leave the finances to us!
If I can't give you money, how can I help support the game?
The best way to support the game is to stay active in the community, participate in events both in and out of game, and most of all: have fun! You guys are the reason we're doing this, and your encouragement is what keeps us going.
I'm a bit concerned that this project is being ran by a bunch of kids rather than a respected company such as Disney. How can I ensure that Toontown will be in good hands?
That's a good question, because you're right. We aren't a respected company, and this is our first experience with anything on this scale. We especially say this to you parents who are worried about how safe your kids may be while playing. Many of our support team members are parents too and know how it feels to put trust into an unknown group. (Although even more so, many of the core team members are teens who know what it's like to have strict parents.) Over this past year, we really hope that you have gotten to know us and found us to be trustworthy. Many respectable establishments such as Bloomberg, Technology Tell, and Schell Games have had first hand experiences with us and feel like we have a shot at keeping this game to the same standard that Disney set it to. Even then, we know it can be hard to entirely trust us. We're doing our absolute best to earn it from you, and hopefully one day we will if we haven't already!
The best thing we can tell you to do to trust us is to talk to us. Whether it be through email, forums, or any other method -- we're happy to talk to you and hear about any concerns you have. We want you to be safe, we want your kids to be safe, and we want the entire game to be safe. If we can't live up to the standard that Disney set for Toontown, we aren't going to run it. When it comes down to the bare bones of things your safety, excitement, and trust means the most to us. Toontown doesn't matter if we can't ensure that you can be safe and fun while playing it.
If you ask me? Well, I have absolutely no doubts that we can achieve it. But hey, that's coming from just your everyday goober. Thanks for everything, to all of you. We're looking forward to playing Toontown with you once again!
If you have any more questions for us, feel free to post them in the comments or email us at

[email protected]

.
June 16, 2014 [ttr-beta-v1.2.5]
Bugfixes:
• Improve the collisions of small goons in the CFO
• Fix a glitch with boarding groups which could be abused to trap toons in an elevator
• Patch up a few server-side memory leaks
• Prevent a district reset caused by the Toontorial
• Fix a server-side crash related to Friends
• Fix a long-standing bug where Toons would have trouble teleporting to their friends on the street

June 17, 2014 [ttr-beta-v1.2.6]
Maintenance
• Fix a rare issue where Toon Names would get lost in the pipes and never reviewed
• Improve security to disallow modified or hacked clients from being able to connect to the game directly through the source code

Tweaks:
• Allow more treasures to be spawned in Playgrounds to fit the rising player amount

---
Comments
Sorry! Comments are closed.
---
---
---
---
---
---
---
---
---
---
---
---
---
---
---
---
---
---
---
---
---
---
---
---
---
---
---
---
---
---
---
---
---
---
---
---
---
---
---
---
---
---
---
---
---
---
---
---
---
---
---
---
---
---
---
---
---
---
---
---
---
---
---
---
---
---
---
---
---
---
---
---
---
---
---
---
---
---
---
---
---
---
---
---
---
---
---
---
---
---
---
---
---
---
---
---
---
---
---
---
---
---
---
---
---
---
---
---
---
---
---
---
---
---
---
---
---
---
---
---
---
---
---
---
---
---
---
---
---
---
---
---
---
---
---
---
---
---
---
---
---
---
---
---
---
---
---
---
---
---
---
---
---
---
---
---
---
---
---
---
---
---
---
---
---
---
---
---
---
---
---
---
---
---
---
---
---
---
---
---
---
---
---
---
---
---
---
---
---
---
---
---
Back To Top