More News
Lucky for an Unlucky Friday
Posted by Flippy on June 13, 2014 at 2:00 PM
Hi there, new and old citizens of Toontown! It's great to be back onto the blog for another post. I've come a long way since my very first post that long time ago, and nowadays I'm much more excited to make a post than ever before! Although, there are a few creepy conundrums in the air to be nervous about today...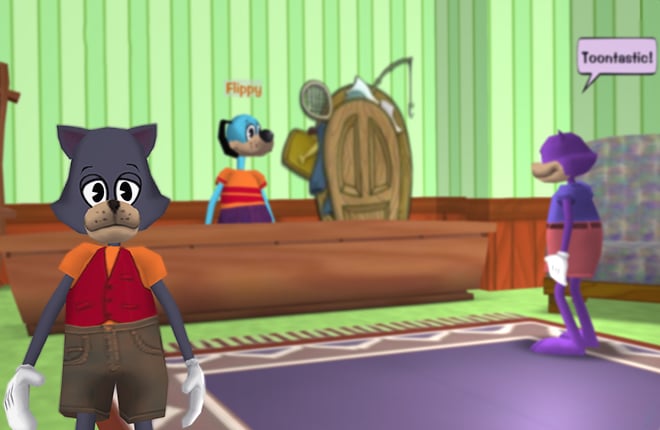 Although the Toon Hall is still under construction, I love putting together any events that we can here in Toontown -- especially with all of the new toons! I was looking through my Shticker Book on the Snapshots page today and remembered a little tradition here in Toontown that our newer toons haven't experienced yet: Black Cat Day! And my, what a better day to have it than the ghoulish holiday of Friday the 13th?
Stop by my office any time from now until Sunday for a little splash of bad luck to scare your friends on this nightmarish night. It'll be a
TOONTASTIC
time! Be careful though -- a lot of toons have been getting the Level 7 Toonup gag over the past few days. I'd avoid walking under any ladders, stepping on cracks, or crossing the path with one of the unbearably bad black cats!
By the way: Toon Hall construction has been going swimmingly! They did run out of black paint today, though, so production is a bit behind schedule. I wonder where that paint went, anyway?
June 13, 2014 [ttr-beta-v1.2.4]
Maintenance:
• Major whitelist update taken from MMO Central's Whitelist suggestion thread. Thanks guys!

Bugfixes:
• Whispers and nametags no longer overlap the friends list
• Fix a crash relating to Street Maps
• Potentially fix a crash with Ice Slide
• Fix a server crash relating to friends
• Stop sending PlayTime whispers if a player redeems a beta key
• "New Toon" tasks now properly keep track of the amount of new players in battle

Tweaks:
• Improve Whisper GUI with long names
• Improve animations and GUI on Treasure Dive
• Girl dogs now have properly placed eyelashes. Thanks Toonblr!
• Adjust transparency on the Portable Hole to be a perfect circle

Features:
• Cats can now head over to the Toon Hall for a coat of black fur (or paint?) from Flippy! Be careful - that stuff is permanent!

---
Comments
Sorry! Comments are closed.
---
---
---
---
---
---
---
---
---
---
---
---
---
---
---
---
---
---
---
---
---
---
---
---
---
---
---
---
---
---
---
---
---
---
---
---
---
---
---
---
---
---
---
---
---
---
---
---
---
---
---
---
---
---
---
---
---
---
---
---
---
---
---
---
---
---
---
---
---
---
---
---
---
---
---
---
---
Back To Top