More News
Enter the First "Toon Enough" Costume Contest!
Posted by The Toontown Team on July 5, 2018 at 9:00 AM
Calling all Toons! We have important information for this year's attendees of ToonFest at ReplayFX 2018. Everyone knows that we have some "Toontastic" events lined up every year at ToonFest, however, one key activity has always been missing... Until now.
We're proud to announce the The First Annual "Toon Enough" Costume Contest!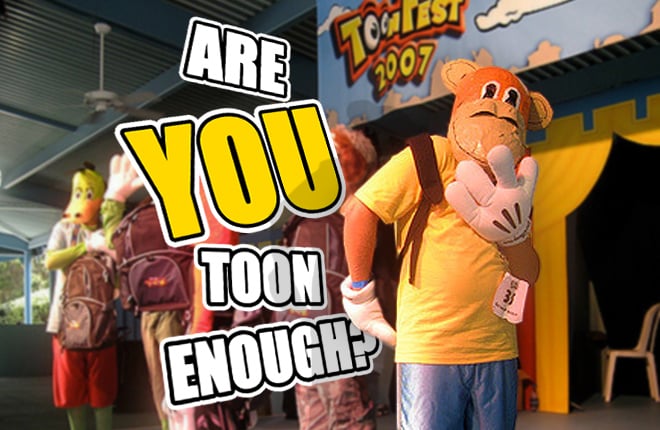 As long as there's been ToonFest, attendees from far and wide have brought all sorts of costumes without us even asking! From wacky Toons to fearsome Cogs -- we've seen it all. We absolutely love these costumes, and we want ALL of you creative costume creators to get the fame you deserve. It's time to take being "Toon Enough" to the next level.

Even if you are not someone who would normally participate in an event like this, we encourage you to give it a try. Getting out of your comfort zone and showing the Tooniverse just how Toontastic you are could win you an exclusive prize, and some Toontastic fun along the way! (Have we used the word "Toon" enough yet?)
We believe that there's a whole lot more creativity out there than what we get to see at ToonFest, which is why we'll also be accepting online entries for a separate category of the contest to win a Toontown Prize Pack!
We can't wait to see the many different costumes you all will create, as it will surely be a huge highlight of this year's ToonFest. You may still have the rest of the month to work on your costume, but you better go get to work right after you finish reading this blog post! (Or you could just start now… But then you wouldn't know when the event is taking place.)


Contest Guidelines:
You can dress up as any Toontown Rewritten related character: Toon, Cog, Doodle, or if you are feeling really silly: a dancing fire hydrant!


The contest will be judged 25% on presentation and artistic quality, 25% on originality, and 50% on Toon-style humor and inspiration, by a panel of sufficiently silly Toontown Team Members.


In-person registration and judging will take place at 11:00 AM EST on Saturday, July 28th at the Toontown Booth at ReplayFX.


Online entries can be submitted by posting a public photo of your costume on Facebook, Twitter, or Instagram with the hashtag "#ToonEnough" between 12:00 AM and 12:00 PM on Saturday, July 28th.


The three best in-person costumes at ToonFest 2018 will receive an exclusive prize and the chance to throw one of the biggest pies at the Annual Toontown Pie Toss.

The three best online costumes will be contacted after ToonFest is over to receive a Toontown Prize Pack!

Think you'll feel silly dressing like a Toon? That's the point -- looking silly with fellow Toontown players is part of the fun! You bring the costumes, we'll bring the cameras to immortalize them in Toon history.
The winners of the contest will be announced at the beginning of our Q&A panel taking place on Saturday, July 28th at 2:30PM. If you're not at ToonFest, be sure to watch our panel Livestream to see these Toontastic costumes for yourself!




To make the best out of your ToonFest experience, be sure to stay TOONed for more information about ToonFest at ReplayFX 2018. If you haven't gotten your ticket yet, your window is closing. Get them now before it's too late!
---
Comments
Sorry! Comments are closed.
---
---
---
---
---
---
---
---
---
---
---
---
---
---
---
---
---
---
---
---
---
---
---
---
---
---
---
---
---
---
---
---
---
---
---
---
Back To Top