More News
Blockout Bingo Comes Back to Toontown!
Posted by Deputy Dynamite on July 25, 2018 at 12:00 PM
Howdy, Toons! Deputy Dynamite the Toon Trooper here. Boy, do I have news for y'all. I'm pulling out the big squirt guns: Toon HQ heard you loud and clear in response to our weekly poll that Fishing was Toontown's favorite way to earn jellybeans, and Flippy immediately put us to the task of only enhancing that experience further!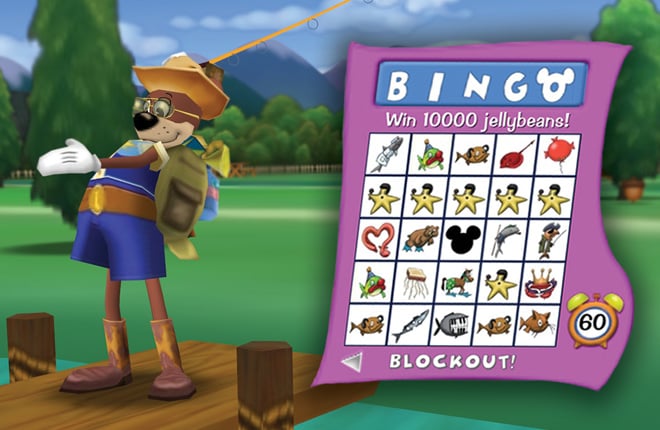 I'm not a bear that beats around the bush, so let's cut straight to the chase: a new Fish Bingo game mode has come to Toontown! Newcomers to these parts may be wondering how to play that rodeo. Well, I'll be happy to tell ya!
During weekly Fish Bingo Wednesdays, as well as during the Fish Bingo portion of Silly Saturdays, a Blockout board will appear at the start of every hour. You'll team up with your nearby dock partners to compete against every pond in the District to clear out the board. The first pond in each District to fill the whole board wins a big ol' JACKPOT of Jellybeans!

Now, what if no one clears the board before time runs out? That's where it gets interesting... Each hour that the jackpot isn't won in a District, it will raise by 100 jellybeans. That'll go all the way up to 10,000! I don't even know what I would do with that many beans. Maybe I'd buy a real nice new pair of boots…
With that being said, get ready to round up your favorite pals to compete for the biggest prize pool Fish Bingo has ever seen. Everyone at the pond wins the prize, so it is key to work together! This will be the one time in your life where y'all will want to keep catching those nasty Old Boots over and over again. They can be used to fill any spot in the board!
Before I leave ya, let me give you the full scoop about this weekend: Myself and the other Toon Troopers will be gathering groups in Fizzlefield, Toontown Central from July 26-29 to help with ToonTasks. That's right, we're not just standing around -- we're gettin' down to BUSINESS! Bring that ToonTask you've been stuck on to us, and we will grab a band of Toons to assist you through it!
If there's no Toon Troopers there when you arrive, they're probably all out helping other Toons! Just wait patiently until they're back. I'll be there myself and can't wait to meet y'all! See you then!

---
Comments
Sorry! Comments are closed.
---
---
---
---
---
---
---
---
---
---
---
---
---
---
---
---
---
---
---
---
---
---
---
---
---
---
---
---
---
---
---
---
---
---
---
---
---
---
Back To Top