More News
Welcome to ToonFest at ReplayFX 2018!
Posted by The Toontown Team on July 26, 2018 at 6:00 AM
Welcome, one and all, to ToonFest at ReplayFX 2018!

This year at ToonFest, we have all sorts of new and exciting things in store. Today, we've got a blast from the past! Former Toontown Online developers, Jesse Schell and Shawn Patton of Schell Games, will be at the Toontown booth from between 4:00 and 7:00 PM EDT. Check out the livestream to see the hilarity!


Watch on YouTube Watch on Twitch
We're absolutely thrilled to have these two TOONTASTIC people join us for yet another year here at ToonFest. From Toon Parties, to Goofy Speedway, to battles and more -- these two have not only seen it happen, but made it happen!
But that's not all! We've got a Toontastic lineup all week. Check out the schedule below to get just a taste of ToonFest at ReplayFX 2018!
---
ToonFest at ReplayFX 2018
Event Schedule
ToonFest: Kickoff with Disney's Toontown Online Developers
Thursday @ 4:00 - 7:00 EDT
Toontown's biggest annual gathering kicks off right here at ReplayFX! Join us for fun activities and Q&A with game industry experts and former developers of Disney's Toontown Online, Jesse Schell and Shawn Patton, from the Pittsburgh-based entertainment studio, Schell Games!
ToonFest: The Main Event
Friday @ 1:30 - 2:30 PM EDT
It's the event every Toon has been waiting for. Get the full scoop on brand new updates coming to Toontown Rewritten, as well as secret behind-the-scenes content straight from the Toontown Team!
ToonFest: "Toon Enough" Cosplay Contest
Saturday @ 11:00 AM - 12:00 PM EDT
Whether Toon, Cog, or even a Doodle -- prove that you're "Toon Enough" at the official ToonFest Cosplay Contest! Winners will be announced at the panel later in the day.
ToonFest: Backstage with the Toontown Team
Saturday @ 2:30 - 4:00 PM EDT
Want know more about the silliness that happens behind the scenes of one of the most popular family-friendly MMOs? Join us at our Q&A session, where the Toontown Team will be answering YOUR questions about all things Toontown!
ToonFest: The Annual Toontown Pie Toss
Sunday @ 12:00 - 1:00 PM EDT
Grab some gags and join the fun at the largest pie toss to ever make a SPLAT in Pittsburgh! This is an event for Toons of all ages. Pies will be supplied!

---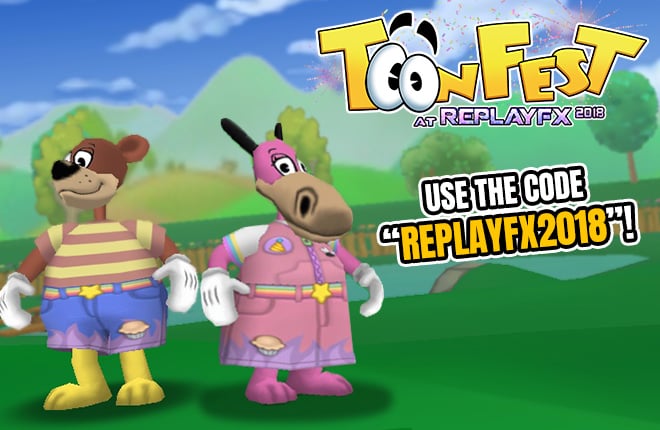 For those of you at home, we need YOUR help to make ToonFest a worldwide event! To help you celebrate ToonFest in your own way, we've got the latest styles to "Toon-Up" your outfit. From now until August 9th you can redeem the code "replayfx2018" in your Shticker Book to unlock two brand-new items for your Toon!
We can't wait to see so many of you at ToonFest this year! To those of you at home, fear not! We will be livestreaming all of these events -- but please bear with us for any technical difficulties due to the convention center's setup. Be sure to keep an eye out on our social media and our livestream page, which can always be found at toon.town/live!
We'll be back tomorrow with another daily ToonFest post. Stay TOONed!
---
Comments
Sorry! Comments are closed.
---
---
---
---
---
---
---
---
---
---
---
---
---
---
---
---
---
---
---
---
---
---
---
---
---
---
---
---
---
---
---
Back To Top