More News
Finish Strong, Laffletes!
Posted by Sir Max on October 9, 2017 at 5:00 PM
On your mark... Get set... STOP! Wait, why did some of you start running? Boy, I hope you haven't been waiting until now to start -- and if so, I wish you the best of luck, because the New Toon Laff-o-lympics ends TODAY!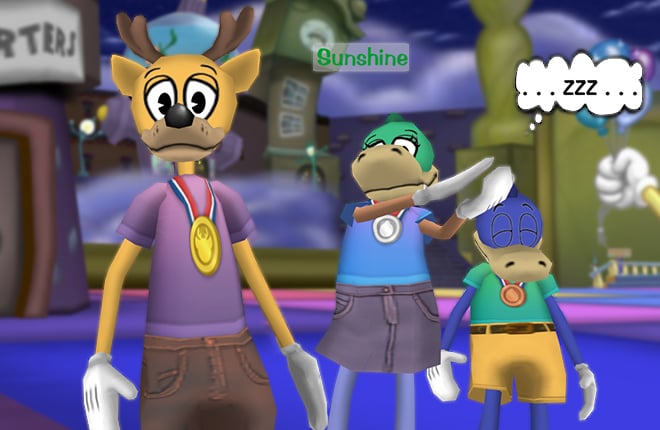 Deer and Crocodile Toons of all shapes, sizes, puns, and personalities have been competing in the most competitive Toontown event to date, the New Toon Laff-o-lympics. These Laffletes have put countless hours into training to reach a high Laff, and today it all pays off!

In case you've forgotten, here are the prizes for each milestone of the Laff-o-lympics. And for the first time ever, the bronze, silver, and gold medal shirts have been debuted in the image above!
50 Laff - Receive a bronze medal shirt and a "New Toon Starter Pack" full of jellybeans and ToonFest tokens!
100 Laff - Receive a silver medal shirt and an exclusive SpeedChat phrase to show your glory!
115 Laff - Receive a gold medal shirt, and enter a drawing to win one of three real-world Toontown prize packs with a Toontown poster, drawstring bag, and trading cards! ONE grand prize winner of the drawing will receive a Toontown poster signed by members of the Toontown team.
Each milestone will receive the previous milestone's rewards in addition to the listed prizes. The medal shirt rewards are not the same as the gold medal shirt given during January's Top Toons contest.
After the event ends at 11:59 Toontown Time (PST) tonight, the Toon Council will spend a short amount of time reviewing the winners and making sure there was no cheating along the way.
Once we get everything squared away, we'll be sending out the prizes and announcing the gold winners on the blog! Don't worry - it won't take long. We know that you want to get your hands on those ToonFest tokens before ToonFest ends.
For those of you who are just a few Laff points away from the next milestone, remember: You ARE Toon Enough! You still have a few more hours to push through -- but remember, school and work is more important than staying up late for Laff. (I'm looking at you too, parents!)
Finish strong, Laffletes! You can do this!
---
Comments
Sorry! Comments are closed.
---
---
---
---
---
---
---
---
---
---
---
---
---
---
---
---
---
---
---
---
---
---
---
---
---
---
---
---
---
---
---
---
---
---
---
---
---
---
---
---
---
---
---
---
---
---
---
---
---
---
---
---
---
---
---
---
---
---
---
---
---
---
---
---
---
---
---
---
---
---
---
---
---
---
---
---
---
---
---
---
---
Back To Top