More News
All Aboard for Prize Peeks! | ToonFest 2017
Posted by Token Taker Ted on October 8, 2017 at 2:00 PM
ALL ABOARD! This ain't the Polar Express, folks -- this is a genuine Hype Train! Yer tickets got no value here, no sir. Instead I ask only for a handful of those ToonFest tokens you've got in that there jar! That's right, we've got a brand new ToonFest prize heading down the track, and the Hype Train is officially leaving the station.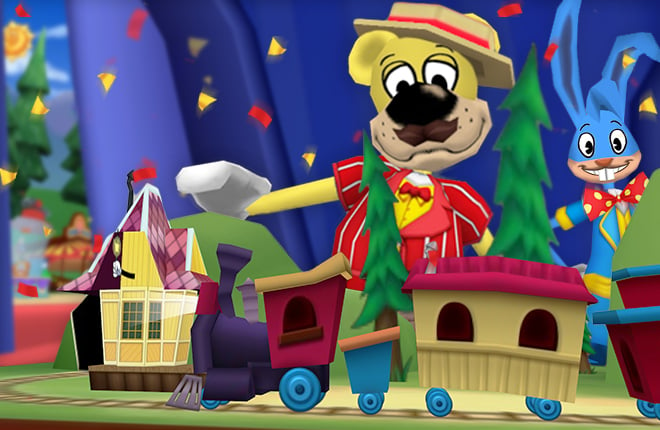 Every year we Token Takers twist our mustaches to try and spice up ToonFest with a grand ol' prize idea. Gotta keep the tokens coming in, ya know! We took a good hard look at our selection, and while accessories have been flying off the shelf, we decided it was time to quit bein' carnies and enter the interior design biz', as they call it.
Now, what's a bear like me got any business doin' interior design? HA HA, just you wait and see! We've got a piece o' furniture for your home finer than the mustache on my muzzle, yessir. Coming this week is ToonFest's newest prize, an interactive Loco Locomotive Train Set for your home! You'll be able to grab that soon for a mere 750 tokens. Keep your eye on this here blog for the release later this week.
That ain't my only news. You know I'd not leave ya with some crummy piece of furniture! That ain't good ol' Ted, I treat ya right. See, Riggy's been cookin' up some plans for new ways to earn ToonFest tokens ever since Toon Parties started competin' with us. I don't want to spoil 'em, but I'll say that they're gonna put the emphasis on "prize" in "surprise."
So, when's this Hype Train comin' round the mountain? You'll be able to grab that prize and participate in new ways to earn ToonFest tokens in this week's update! The Toon Troopers went through and squashed a bunch o' bugs plaguing the Winding Woods o' ToonFest, too.
ToonFest ain't over yet! The updates coming this week will knock yer socks off, or at the very least tickle your 'stache. ToonFest ends on October 20th, so step right up and get yer prizes before its too late!
---
Comments
Sorry! Comments are closed.
---
---
---
---
---
---
---
---
---
---
---
---
---
---
---
---
---
---
---
---
---
---
---
---
---
---
---
---
---
---
---
---
---
---
---
---
---
---
---
---
---
---
---
---
---
---
---
---
---
---
---
---
Back To Top