More News
The Laff-o-lympics Rigmarole | ToonFest 2017
Posted by Riggy Marole on September 25, 2017 at 2:00 PM
Howdy-do, ya crazy pie tossers! I bet you've been eatin' away at your jellybean supply in anxiousness to know when the connoisseur o' ToonFest himself would appear -- that's certainly what I've been doin'. Wait no longer, because my name's Riggy Marole, and if you've not met me yet: I'm the host with the most here at ToonFest!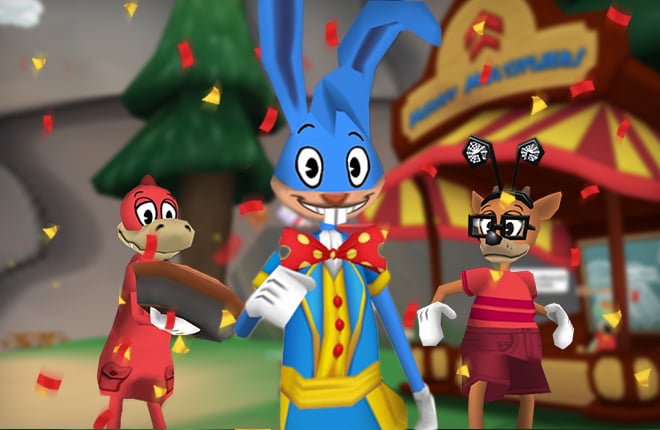 HEY, hey, don't be pointin' that wide-eyed glare at me. It's taken me a few days to hit the blog because I've been celebratin', commemoratin', and even weddin' all these new Crocs and Deer in town. Let me tell ya, the bride's family was that snappiest bunch I've seen yet, and she wasn't even a Crocodile. HAH!
So besides buying that ministers license and using a magic act to make Toon Estates DISAPPEAR for the past few days (The Toon Council asked me to stop...) , I've been cookin' up some well-done thoughts in my noggin. I've sliced up some carrots, let 'em simmer, tossed a few jellybeans in for sweetness -- and VOILA! Fully cooked idea. Mmmm, just like momma used to make.

So what's the idea? Hands off, buck-o, the cook gets first dibs! Eh, but I suppose I can spare a slice of dessert with this little idea pie. Ya see, this Laff-o-lympics business has been eatin' into my profits here at ToonFest. Just look at these stats!
Over 2,700 Toons have earned bronze, passing 50 Laff Points.

313 Toons have earned silver, passing 100 Laff points.

Here's the kicker: 21 Toons have made it past 115 Laff, earning GOLD!
What do these stats have to do with ToonFest? Boy, what do they NOT have to do with ToonFest?

Here's the rigmarole: I've got my Token Takers set up with a Merry Multiplier booth, as we call 'em. Finest multipliers you'll find this side of Dreamland! Spending your ToonFest tokens here allows you to earn increased gag and promotion experience, therefore speedin' up the process for you Laffletes. It's LITERALLY cheatin', but the Toon Council calls it fair game. HAHAH!
Now, some of you may have already known about that little tidbit -- so what's this post got for you? Well, I worked some of my magic (I am magic, ya know.) and managed to extend the Laff-o-lympics until October 9th at 11:59PM Toontown Time (PST)!
This extension o' sorts will allow you to spend a couple more days training your Toon, and earning the gold you deserve! And if you haven't gotten very far in the Laff-o-lympics yet, it's not too late! We've still got two weeks left, which is plenty of time to at least earn a bronze medal with enough dedication.
Don't ever say that good ol' Riggy Marole never did anything nice for ya. I'm headin' back to ToonFest, but keep those eyes peeled -- I've got much more in store for ya as ToonFest carries on. Pasta la vista! (Heh, that's my next thought recipe.)
---
Comments
Sorry! Comments are closed.
---
---
---
---
---
---
---
---
---
---
---
---
---
---
---
---
---
---
---
---
---
---
---
---
---
---
---
---
---
---
---
---
---
---
---
---
---
---
---
---
---
---
---
---
---
---
---
---
---
---
---
---
---
---
---
---
---
---
---
---
---
---
---
---
---
---
---
---
---
Back To Top