More News
Celebrate Independence with Summer Fireworks
Posted by Sir Max on July 4, 2017 at 4:30 PM
Independence Day
is a day to celebrate all of the wonderful ideals that we hold so dear. Picnics, barbecues, baseball, parades -- these are just a few of the great pastimes that we celebrate on this hot summer day. When the sun sets, however, we have the most celebrated pastime of all: Fireworks. Sparklers.
Explosions!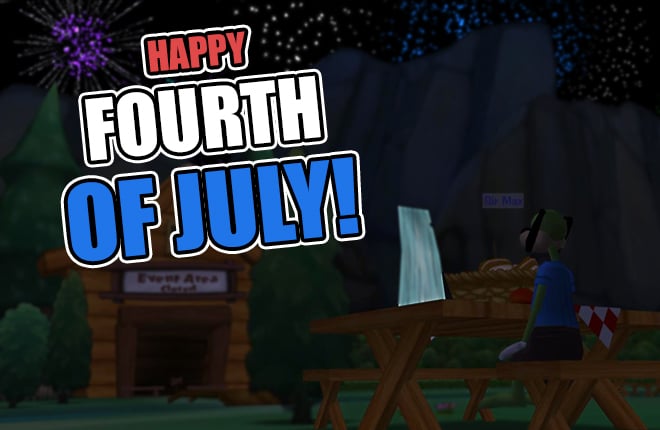 Even the Legal Eagles seem to be "enjoying" on this festive Fourth of July, they're flying through the sky to make sure Toons are following the local regulations about our skyward pyrotechnics. Spoiler alert, though:
We aren't!
It's simply unpatriotic to celebrate the Fourth of July without fireworks and other various explosives. I won't stand for it! Sure, there's been some danger
in the past
(McQuack specifically chose to go on vacation this week)
, but that shouldn't stop us from trying to make it even more dangerous than ever before.
Us Toon Troopers have been working ourselves to the brim in preparation for ToonFest, which you'll see very soon, but you all know I wouldn't let July 4th go without any fireworks. From now until
July 6th at 11:59PM
, you can watch fireworks take over the sky and blast those Cogs out of the air every hour, on the hour!
I hope that you all enjoy your Independence day, and don't forget to go out and give those Cogs a good pie to the face.
You may even see Toon Troopers running around
(Such as yours truly)
throughout the firework extravaganza!
---
Comments
Sorry! Comments are closed.
---
---
---
---
---
---
---
---
---
---
---
---
---
---
---
---
---
---
---
---
---
---
---
---
---
---
---
---
---
---
---
---
---
---
---
---
---
Back To Top