More News
Toon Species Election: Have Some Merit. Vote for PARROT!
Posted by Parrot on March 8, 2017 at 2:00 PM
Hello, Hello, Toontown! I'm the Parrot! I love to talk, so I promise there won't be any silent tweetment with this post. Toucan play at the pun game, and they say that I'm a real wisecracker!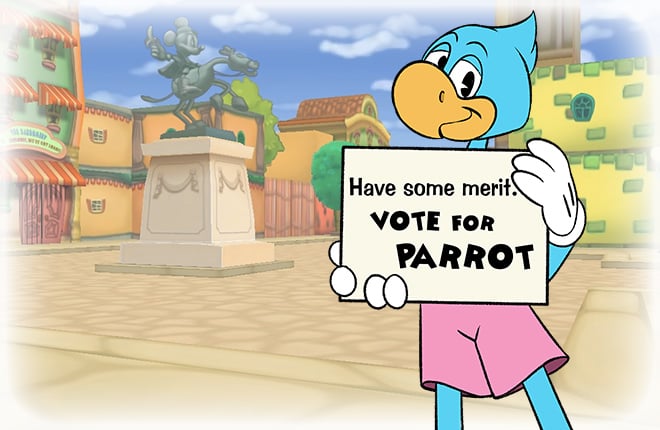 Let's get rid of some of the facts that ruffle my feathers: I don't know who polly is, and while I certainly love crackers, I'd much rather eat jellybeans! I will admit, though, that crackers do go great with soup when I'm feeling under the
feather
.
I once tried joining a band of pirates, but the crimes they committed were a bit too
sparrowing
and left me with a worm in my stomach. Toontown seems like a much better place to build my nest!

Enter the Polling Place!
If I'm elected into Toontown, I promise that I won't be too much of a
bird
en. In fact, if you squawk down the street with me, we'll be like two birds of a feather!
They say that the early bird gets the worm, but I'm a Parrot and we like to share it. It's never too late to vote -- well, unless you vote after March 11th. Better get flying to the polls!
"Have Some Merit. Vote for PARROT!"
---
Comments
Sorry! Comments are closed.
---
---
---
---
---
---
---
---
---
---
---
---
---
---
---
---
---
---
---
---
---
---
---
---
---
---
---
---
---
---
---
---
---
Back To Top