More News
Toon Species Election: I'm Pickin' CHICKEN!
Posted by Chicken on March 4, 2017 at 3:00 PM
Hello to you, and a
cock-a-doodle-doo
! I'm the Chicken, and I've been working around the cluck to make sure this Species Election is yolked my favor!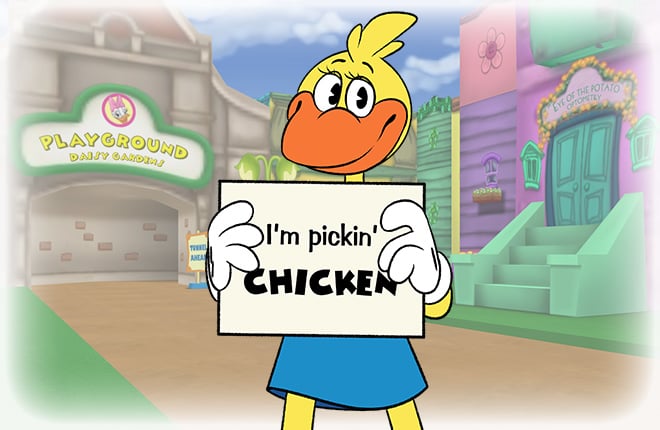 I'm hatching up a plan to win your vote for this Species Election! Don't worry, though, there won't be any fowl play. I've felt really cooped up in the hen house where I live right now, but boy, I'd cross a hundred roads to get to Toontown. They say that the days here are always sunny-side-up!
Talk is cheep, and I don't want to ruffle anyone's feathers, but those other candidates have got nothing on this spring chicken! They just keep egging each other on, while I'd rather just wing it and be myself. Even though I'm a flightless bird, I would be glad to fly by your side into a bucket of water with the Cannon Game!

Enter the Polling Place!
Still feeling peckish about the vote? I'd give you a few bawks as a bribe, but I only have change for a
hen
. You can join me any time on the barnyard for a
peck
-nic, though!
Other species are still scrambling to get their votes in the ballot, but I'll just tell you this: Don't be a chicken about putting Chicken as your first choice! When I was just a little egg, they told me that I wasn't all I was cracked up to be, but take a look at where I lay now.
If you
peck
chicken for your New Toon Species, put your ballot in the box before the rooster's crow! I'd love to hear in the comments if you're itching with chicken pox, or still on the fence.
I'm Pickin' CHICKEN!
---
Comments
Sorry! Comments are closed.
---
---
---
---
---
---
---
---
---
---
---
---
---
---
---
---
---
---
---
---
---
---
---
---
---
---
---
---
---
---
---
---
---
---
Back To Top