More News
Toon Species Election: The Choice is Clear... Vote for DEER!
Posted by Deer on March 6, 2017 at 2:00 PM
Toons of Toontown, I hope that you're ready to have some
fawn
with this blog post. I've been waiting
fur
a while for this moment. Oh deer, I almost forgot to introduce myself: I'm the Deer!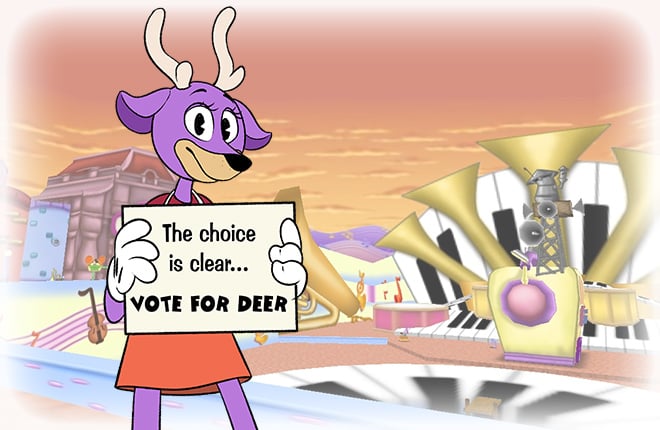 Before you high-tail it over to the Polling Place, let me tell you a bit about me! Of all of the other Toon Species, I think that I have the largest
hart
. I wouldn't call myself a deer in the headlights -- I can be a little shy, doe.
My antlerned about Toontown a few years ago, and ever since then I've wanted to come join this wacky place. It takes more than a few bucks to get in, which is why I'm here, asking you to be a dear, and vote for Deer!

Enter the Polling Place!
If you have no eye-deer who to vote for, it would be very en
deer
ing to become your first choice on the ballot. In fact, I
deer
you to vote for me!
I hope that I've given you a few good
points
that will convince you to pelt the other candidates aside! I'd hate to
stag
ger out of this race so soon. If you're feeling very fawned of Deer, doe not hesitate to let me know in the comments!
"The Choice is Clear... Vote for DEER!"
---
Comments
Sorry! Comments are closed.
---
---
---
---
---
---
---
---
---
---
---
---
---
---
---
---
---
---
---
---
---
---
---
---
---
---
---
---
---
---
---
---
---
---
---
---
---
---
---
---
---
---
---
---
---
---
---
---
---
---
---
---
---
---
---
---
---
---
---
---
---
---
---
---
---
---
---
---
---
---
---
---
---
Back To Top