More News
Toon Species Election: Rock FOX at the Ballot Box!
Posted by Fox on March 3, 2017 at 2:00 PM
Citizens of Toontown, allow me to introduce myself: I'm the cunning, clever, and crafty Fox. What does the Fox say, you ask? I say that today the blog is all about
Fox
News!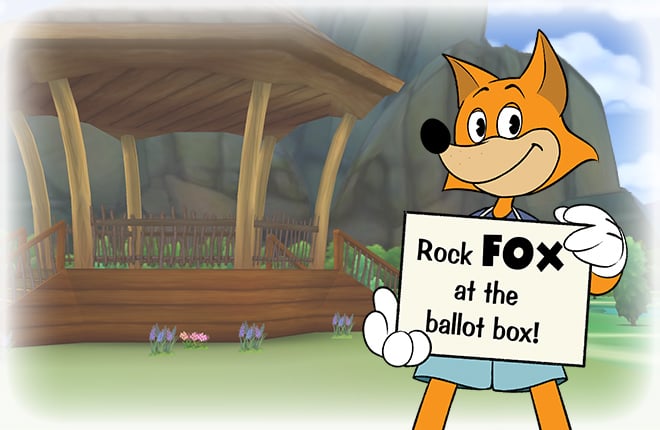 The Tooniverse is a big place, and there are plenty of options for lodging. Toontropolis, Loontown,
Zootopia
-- but Toontown is the place for me. If I win this Species Election
den
I'll be happy to call a Toon Estate my home!
They say that foxes are crafty, and they don't just mean cunning -- I made this campaign poster myself and all of my friends were ap
paw
lled. I'm a wiz when it comes to computers, too. Whenever I ask Toons what they think of the Toontown website, they always tell me "You're on Fire, fox!"

Enter the Polling Place!
Now, don't get your socks in a twist over these faux fox fallacies. I may be known for chasing rabbits, but pair me up with a hound and we'll be best friends forever. I've heard that Toontown has a bit of a robot problem, too, but the "Cogs" won't know that I'm as sly as a fox!
If you're feeling foxy, don't wait any
fur
-ther. Fox trot your way over to the polling place, say "
Yip
pee!", and cast your ballot for Fox today!
Rock FOX at the Ballot Box!
---
Comments
Sorry! Comments are closed.
---
---
---
---
---
---
---
---
---
---
---
---
---
---
---
---
---
---
---
---
---
---
---
---
---
---
---
---
---
---
---
---
---
---
---
---
---
---
---
---
---
---
---
---
---
---
---
---
---
---
---
---
---
---
---
---
---
---
---
---
---
---
---
---
---
---
---
---
---
---
---
---
---
---
---
Back To Top