More News
Toon Species Election: Vote Now, Vote COW!
Posted by Cow on March 2, 2017 at 2:00 PM
Don't graze over this post. Fellow Toons, I'm the Cow! I am udderly excited to be here on the blog, and let me tell you -- I'm no push-over. It's time for those other candidates to
moooooooooove
over, because it's this bovine's time to shine!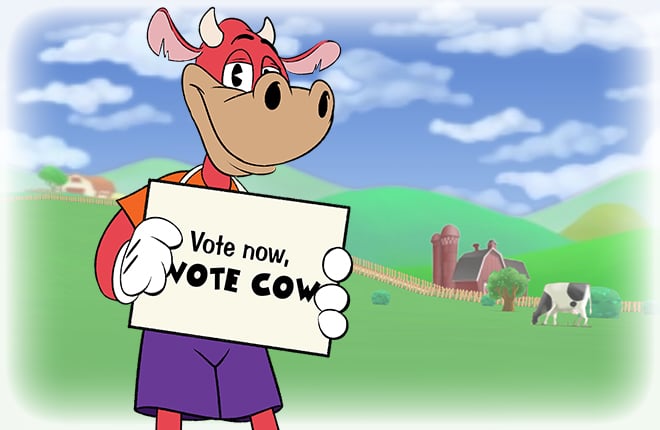 This Species Election is an important step in Toon History, and once Alec Tinn cow-culates those votes, one of us species will be joining you all on the streets of Toontown! When picking your candidate, consider this: Which species is going to bring the most fun to Toontown?
I'm here to give you an answer -- and excuse me for the beef -- but no other candidate has quite the sound like this cattle will bring to battle! There is no sillier sound than the hearty
MOOOOOO
that will turn any playground into a laughing stock!
Ringing any cowbells yet? I should mention that us cows already play an important part here in Toontown. We may not be official residents, but Clarabelle's Cattlelog is the best place in town to buy gifts for each udder.

Enter the Polling Place!
I think I've milked you enough to make the choice clear -- and it's pasture time to vote! Head over to the polling place, and consider COW as your choice for the ballot. The New Toon Species is at steak!
Thanks for considering me for your New Toon Species -- I'm jumping over the moon with excitement! If you leave a comment with support for Cow, it'll be moo-sic to my ears.
Vote Now, Vote COW!
---
Comments
Sorry! Comments are closed.
---
---
---
---
---
---
---
---
---
---
---
---
---
---
---
---
---
---
---
---
---
---
---
---
---
---
---
---
---
---
---
---
---
---
---
---
---
---
---
---
---
---
---
---
---
---
---
---
Back To Top