More News
Happy ValenToons Day!
Posted by Vidalia VaVoom on February 14, 2017 at 9:00 AM
Ah, what a lovely morning! I may have only received two hours of sleep, but love will keep me going today! You see, I spent all last night writing a letter to the dog I love. It
is
ValenToons Day, after all.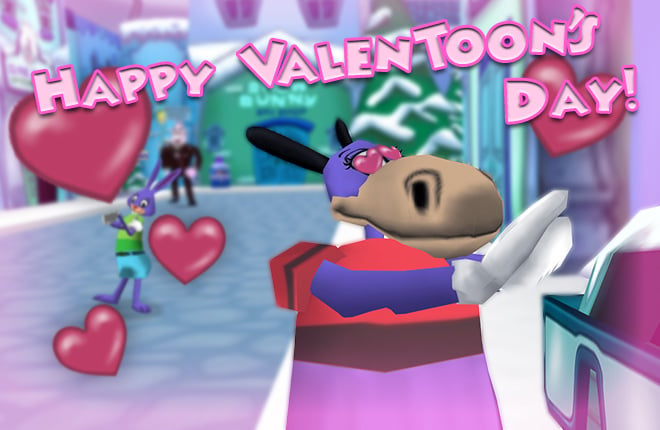 You know, Toons, I never felt that we did enough for ValenToons Day here in Toontown. There's plenty of lovely clothing in the Cattlelog, and it sure would be nice to throw a ValenToons Day
party
, but there's just something we're missing here... Can you think of what it is?
Now, I've heard the Toon Council has been a little silent lately as they work on expanding their team and finally completing some big projects, but that musn't stop us from showing support! For when the Toon Council
does
get around to it all... What kind of activities would you like to see during special Holidays in Toontown?
I have specific instructions to collect information from YOU Toons: What special events, games, prizes, contests, or even new ToonTasks could be given out for future Toontown holidays?
Give it some thought, and let me know in the comments! Stay Tooned to the news for upcoming excitement, as I assure you this dry spell won't last for much longer than a couple more days.
I must be off to deliver my love letter now. I certainly hope I don't bump into any of those nasty Cogs.
Happy ValenToons Day, Toontown!
---
Comments
Sorry! Comments are closed.
---
---
---
---
---
---
---
---
---
---
---
---
---
---
---
---
---
---
---
---
---
---
---
---
---
---
---
---
---
---
---
---
---
---
---
---
---
---
---
---
---
---
---
---
---
---
---
---
---
---
---
---
---
---
---
---
---
---
---
---
---
---
---
---
---
---
---
---
---
---
---
---
---
---
---
---
---
---
---
---
---
---
---
---
---
---
---
---
---
---
---
---
---
---
---
---
---
---
---
---
---
---
---
---
---
---
---
---
---
---
---
---
---
---
---
---
---
---
---
---
---
---
---
---
---
---
---
---
---
---
---
---
---
---
---
---
---
---
---
---
---
---
---
---
---
---
---
---
---
---
---
---
---
---
Back To Top