More News
Toontown Needs YOU!
Posted by The Toontown Team on February 5, 2017 at 12:00 PM
Calling all Toons!
It's the Toontown Team here, bringing you exciting news from the "Backstage" of the Tooniverse. We've been working hard behind the scenes, and to make this Toontown's biggest year ever we need
YOU!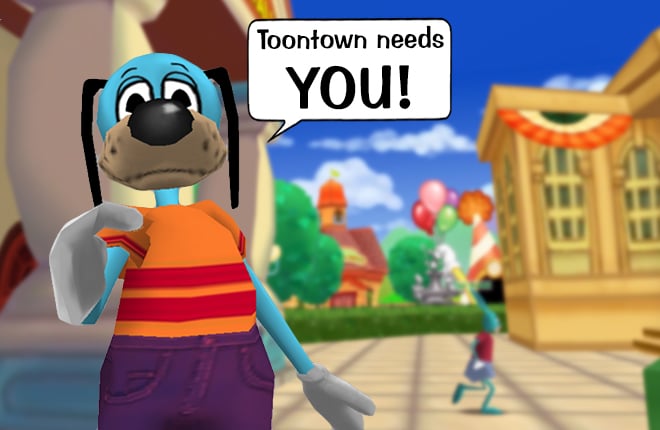 As you may know, we've been hard at work since November to restructure ourselves with the goal of bringing Toontown Rewritten out of beta this year. This is a task of Toontanic proportions, and if we asked you to join us back in October -- we wouldn't have been able to achieve it.
After many months of organization, reprogramming our tools, and working hard on all of the internal sides of our game
(We're not Cogs, are we?)
, we're on track to make this accomplishment count. We've always had big plans, and we know that you're eager to see them come. Now, with
YOUR
help, we're ready to make that happen.
Part of our plan over the past few months has been putting together a process for brand new team members to help us make this big move for Toontown. We announced last month that we had brought on
5 new team members
, and now we're going to be bringing on even more.
We have officially launched our
Team Application Page
, which lists all of the positions that we're looking to fill. Game Programmers, 3D Artists, Moderators, Video Editors -- you name it! We're looking for talented Toons like yourself who can become the Toontown Rewritten Team's future.
Our team is far from tiny, but over the years we have kept a fairly steady size. Toontown has grown, however, and it's time for our team to grow too so that we can continue providing you with the most Toontastic experience possible.
Apply Now!
What are you waiting for? We've got to get back to work! The future of Toontown depends on
YOU!
---
Comments
Sorry! Comments are closed.
---
---
---
---
---
---
---
---
---
---
---
---
---
---
---
---
---
---
---
---
---
---
---
---
---
---
---
---
---
---
---
---
---
---
---
---
---
---
---
---
---
---
---
---
---
---
---
---
---
---
---
---
---
---
---
---
---
---
---
---
---
---
---
---
---
---
---
---
---
---
---
---
---
---
---
---
---
---
---
---
---
---
---
---
---
---
---
---
---
---
---
---
---
---
---
---
---
Back To Top