More News
Toon Species Election: Make Me Smile - Vote CROCODILE!
Posted by Crocodile on March 7, 2017 at 2:00 PM
Enough with the squeaks, yips, and cock-a-doodle-doos. It's time for chomps, bites, and
CROC
-a-doodle-doos! Give a big ol' smile, because today's blog post comes from Crocodile!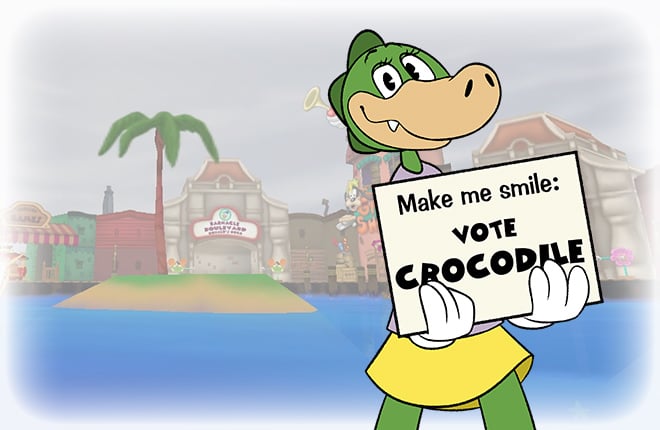 You'll have to excuse me, I can be a little snappy at times. I'm all bite and no bark! Some Toons may be afraid of me, but don't worry, I'm on a strict diet. I drink nothing but
Gator
ade so that I can join the Toontown swim team!
All of those other species -- or as I call them,
appetizers
-- have plenty of good reasons to join Toontown. This investi
gator
did some researching, though, and found out that there is no other reptile represented in Toontown!

Enter the Polling Place!
What are you waiting for? I'm telling you the tooth: Voting for Crocodile is a snap! It only takes a few
bites
of data to load the ballot page, too. If I get voted in, I can assure you I'll be an excellent dele
gator
for Toontown.
Chew on the thought of voting for Crocodile for a while, then head over to the Polling Place and do the Crocodile Rock! With your votes behind me, I know that I'll
grin
-- Err, I mean win.
"Make Me Smile -- Vote CROCODILE!"
---
Comments
Sorry! Comments are closed.
---
---
---
---
---
---
---
---
---
---
---
---
---
---
---
---
---
---
---
---
---
---
---
---
---
---
---
---
---
---
---
---
---
---
---
---
---
---
---
---
---
---
---
---
---
---
---
---
---
---
---
Back To Top