More News
Stay Updated with OMGCon!
Posted by The Toontown Team on June 10, 2016 at 6:00 AM
It's time to kick off the OMG!Con weekend! For those who are coming, we can't wait for you guys to get here and party with us! And for those who can't, we have some things in store for you too...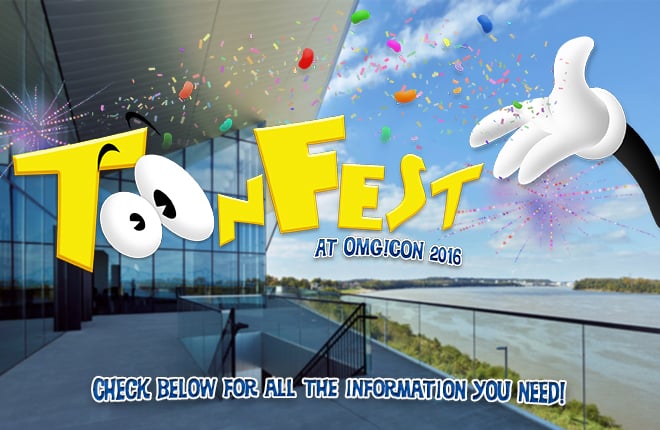 To best stay updated with us over the weekend, check out our
Facebook
,
Twitter
, or most of all --
Snapchat
(Add us with the username "ToontownTV"), where we'll be making frequent posts with all the happenings this side of the Tooniverse.
In addition to the Toontown postcard that they'll receive when getting their OMG!Con tickets, we even have arranged our very own Toontown-themed Snapchat filters for all convention attendees to use! If you have any friends who are attending, you may just see it in use. We'll certainly be using it!
Now, another exciting announcement for the weekend for those Toons watching from home -- we haven't forgotten about you! The Resistance Rangers have been scrambled, and will be running around all weekend to help you out as you participate in the
ToonFest's Top Toons
event!
The Top Toons event will start at 12:00PM Toontown Time today, and end at the same time on Sunday. At the end of those 48 hours, the Toons who have kept the
most Cogs
and
most Cog Buildings
out of Toontown will receive a special shirt and some of the exclusive items given only to people who attend OMG!Con.
Finally, we have one more small thing in store for you. You can grab some awesome OMG!Con items by typing the code "
omgcon2016
" into your Shticker Book after the next update. We'll let you know when it's live!
We have a lot of exciting things in store for you. Get ready for the most TOONTASTIC weekend of the year on this side of the Tooniverse!
---
Comments
Sorry! Comments are closed.
---
---
---
---
---
---
---
---
---
---
---
---
---
---
---
---
---
---
---
---
---
---
---
---
---
---
---
---
---
---
---
---
---
---
---
---
---
---
---
---
---
---
---
---
---
---
---
---
---
---
---
---
---
---
---
---
---
---
---
---
---
---
---
---
---
---
---
---
---
---
---
---
---
---
---
---
Back To Top