More News
Rhymes for Toontown's Time
Posted by The Toontown Team on June 2, 2016 at 2:00 PM
Here on the team, we have quite a silly tradition!
For some of us, it's more like a bit of superstition.
Whenever we talk about the future, we do it in rhymes.
This one's even better than the last
three times
.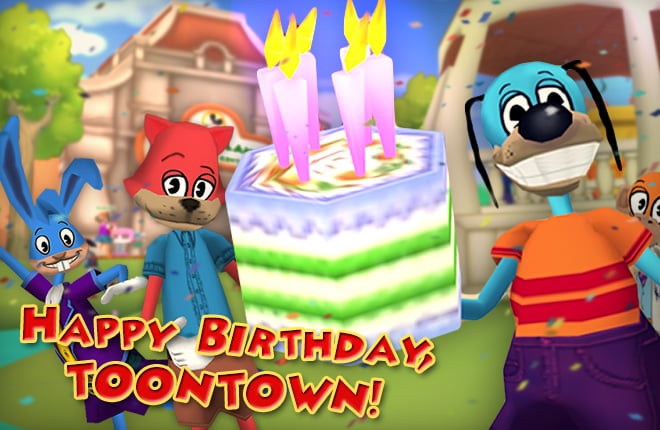 What news do we have? Well, didn't you hear?
Toontown is turning thirteen this year!
A long time ago, on June 2nd, 2003:
Toontown opened up for players like you and like me!
While Toontown Rewritten isn't nearly as old,
Two years ago, today,
our game opened for all toons to behold
.
We added on to that excitement, back in 2015,
With
ToonFest at OMG!Con
came announcements worthy to scream!
This year's quite special, quite special indeed.
ToonFest at OMG!Con is back
, for all who follow toon creed.
To add onto that, there's the annual ToonFest in September.
We promise you it'll be a party to remember.
We can't wait to tell you all that's in store.
But for now, let's celebrate, with parties galore!
Be on the look out for our town's
Toon Troopers
.
They'll be roaming among the
fireworks
with their big ice cream scoopers!
Aside from the Toon-Up their ice cream will give,
They'll be throwing jellybeans! How else would a toon live?
Just you wait and see what else we've got in store.
(What Alec Tinn's been conjuring certainly won't be a bore.)
The summer's on! Just you wait and see...
All of the many Toontastic things for you and for me.
In the meantime, we hope that this day is filled with good cheer.
And even more so, we hope you're ready for the ToonFests this year!
---
Comments
Sorry! Comments are closed.
---
---
---
---
---
---
---
---
---
---
---
---
---
---
---
---
---
---
---
---
---
---
---
---
---
---
---
---
---
---
---
---
---
---
---
---
---
---
---
---
---
---
---
---
---
---
---
---
---
---
---
---
---
---
---
---
---
---
---
---
---
---
---
---
---
---
---
---
---
---
---
---
---
---
---
---
---
---
---
---
---
---
---
---
---
---
---
---
---
---
---
---
---
---
---
---
---
---
---
---
---
---
---
---
---
---
---
---
---
---
---
---
---
---
---
---
---
---
---
---
---
---
---
---
---
---
---
---
---
---
---
---
---
---
---
---
---
---
---
---
---
---
---
---
---
---
---
---
---
---
---
---
---
---
---
---
---
---
---
---
---
---
---
---
---
---
---
---
---
---
---
---
---
---
---
---
---
---
---
---
Back To Top