More News
ToonFest at OMG!Con - Sunday Summary
Posted by The Toontown Team on June 16, 2016 at 6:00 AM
Welcome to the third installment of our OMG!Con Update series! We may have been a
bit
ambitious when calling this series a "daily" update. Between the craziness of the convention, and the time it takes to travel back home without any Portable Holes, this post ended up being delayed. Sorry about that!
Nevertheless, this post will still be bringing you information about all the awesome things that happened at ToonFest on Sunday.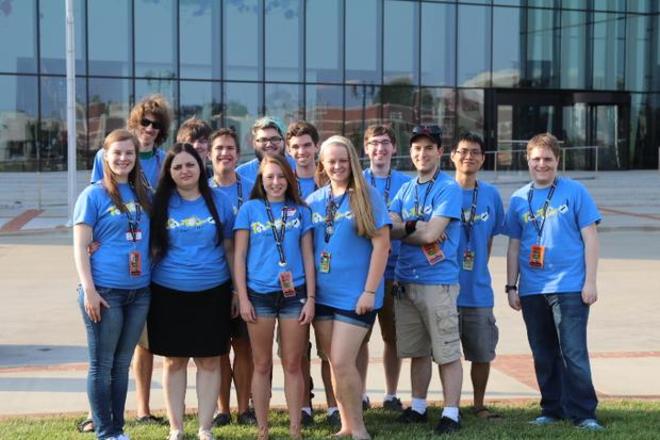 Player Shoutouts
Princess Hulagadget, the maker of The Rogue Portal video (an honorable mention in the Toontown Shorts contest!), showed up all three days of the convention. We loved her energetic personality! You are one cool cat!
There were some really amazing Toon Cosplays. Photos below feature the ValenToons Rabbit and The Rainbow Skirt Twins!
Brad, who was one of the ones who started the tradition of pieing Joey last year, returned this year with more pie than ever before. Your delicious contribution to ToonFest is deeply appreciated!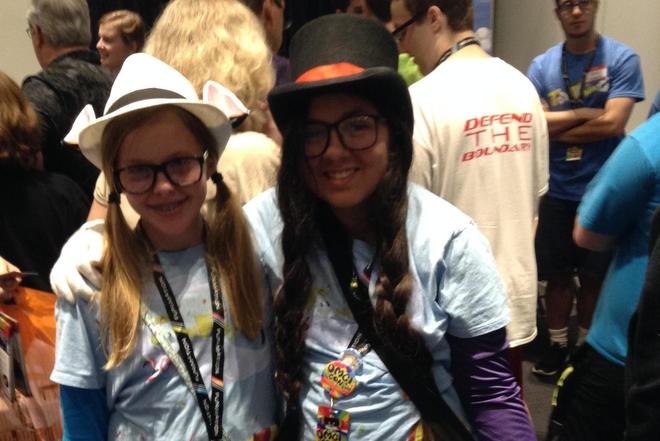 Trolley Tournament
Early in the day, players competed in a Trolley Games tournament. One of the major highlights of the tournament was the race game. With staff members having to station themselves between players so that dice picks were kept hidden, and the struggle between choosing a rush to the end strategy or slow and steady, everyone was on edge. When one player hit a wild card space and was sent straight to the finish line, the crowd erupted with a noise unlike any previously heard from a crowd of Toons. We were even louder than the Nintendo tournament next to us!
The Cannon Game was also especially tense. Every player was sure that each shot would be the winning one, so each cannon blast came with a great deal of anticipation. After it was all over, four players claimed victory!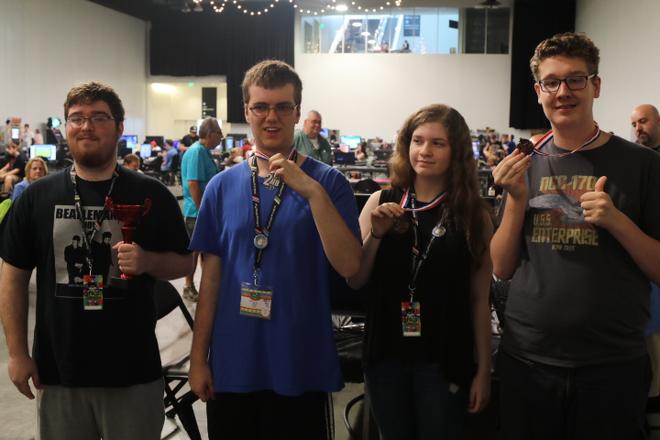 In fourth place was
Jacob D.
, also known as
Renderer
; in third place was
Alyson J.
, also known as
Indicium
; in second place was
Nick R.
, also known as
Ooowoo
; in first place was
Sean O.
, also known as
Harvey G.
Congratulations to these four winners! Your skills are truly a superb display of Toonsmanship!
Toontown Trivia Extravaganza
Our third and final panel of the convention was a trivia game! Four teams of four battled against each other to prove their knowledge of Toontown. Each game had three rounds -- easy, medium, and hard -- featuring five questions each. The harder the question, the more points it was worth! The panel featured such questions as "What type of Cog found on streets does the most collective damage?" or "What is the jellybean combination for Summer's Last Rose?" The competition was fierce!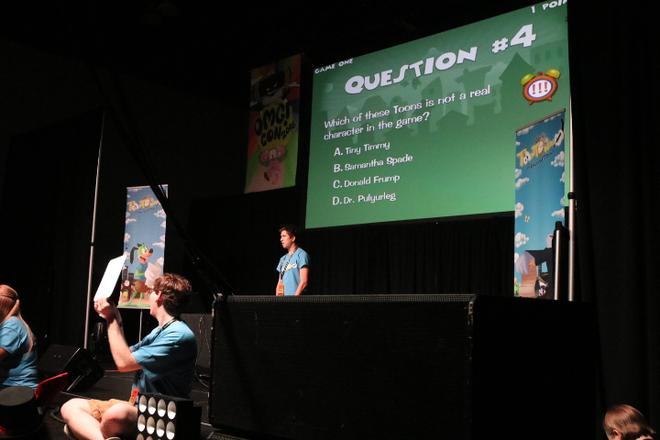 Towards the end of the panel, we entered into our "Lightning Round" where games only consisted of the 5 hard questions featured in the hardest rounds. Many Toons walked away with an exclusive Toontown poster for showing their knowledge of the town! You guys know your stuff!
It Hurts to Say Goodbye
As the convention came to a close, Toons from all over the world said goodbye to one another. We hate to say it, but many tears were shed. Our time in Owensboro had filled our laff meters up to bursting, and they had overflown with points a plenty. Had Loony Labs been there to monitor the fluctuations, I'm certain they would've found a great many anomalies with the mailboxes and fire hydrants outside.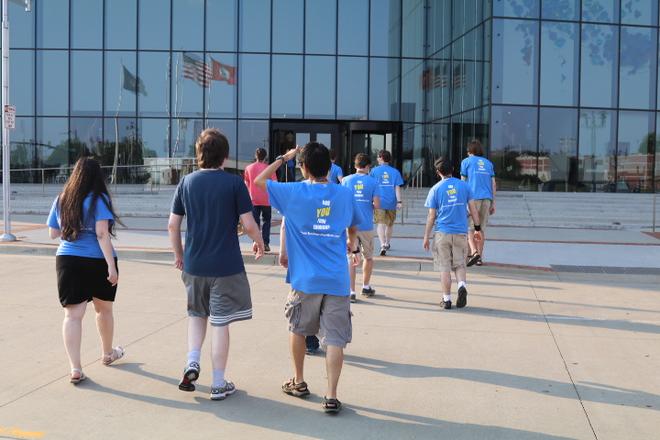 It was sad, yes, but we now have many happy memories as a result, to help fill our meters up again for years to come. Thank you to ALL players who were able to join us for ToonFest 2016, and to those who followed along withus!
Make sure to join us for one final OMG!Con update in the next few days once we've uploaded all of the footage and pictures for the weekend.
Stay up to date on
Facebook
,
Twitter
,
Google+
,
Instagram
, and
YouTube
to see the latest stuff before it gets to our blog.
---
Comments
Sorry! Comments are closed.
---
---
---
---
---
---
---
---
---
---
---
---
---
---
---
---
---
---
---
---
---
---
---
---
---
---
---
---
---
---
---
---
---
---
---
---
---
---
---
---
---
---
---
---
---
---
---
---
---
---
---
---
---
---
Back To Top