More News
The SOS Card Tweak Peek
Posted by Lil Oldman on May 10, 2016 at 3:30 PM
Greetings. It is not often that I venture outside of my shop. The balmy weather in Toontown Central is much too warm compared to my shop. Today I must venture out
once again
, however, for the talk of strategy.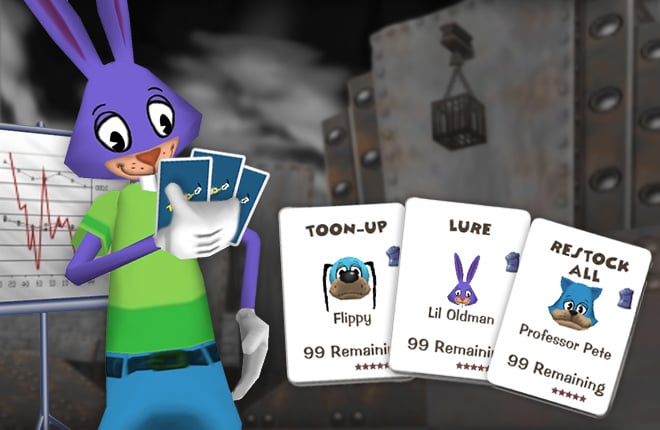 Toons think they have saved me many times from the clutches of Cogs. (They know not that I simply allow the Cogs to use my shop, as it is much tidier when they leave.) Upon being saved from the Vice President, however, I have always given Toons my card so that I may one day be called upon when they are not strong enough to fight on their own.
Today, I have decided to begin bringing my much more powerful lure gag with me rather than the novice Hypno Goggles. Toons such as yourself have asked me to do this for longer than you have been drawn. Likewise, other Toons have also slightly changed their SOS ability.
Toons Hit and Cogs Miss now last for more than one round depending on the power of the shopkeeper,
for example.
In order to accommodate these changes, the Toon Council has began work on allowing Toons to hold
all
SOS cards, but that is for another time. For now,
SOS cards can now be deleted
and are also
sorted by their rarity.
Do not delete your SOS cards if you wish to hold them all, as that ability will come as time passes on.
You can find a more extensive list of the SOS card "tweaks" below. The Toon Council will have more for you in the days to come.
In your travels, remember this: Space Jam is not jam from space; it is a film with basketball players and a much less handsome rabbit. Do not ask me what this means. I do not know.
May 7, 2016 [ttr-beta-v1.11.7]
Maintenance:
• Various housekeeping updates.

Bugfixes:
• Fix an issue where the V.P. would unstun after running into him.
• Fix a crash when returning to the Pick-a-Toon screen after exiting or falling asleep.

Tweaks:
• Loony Lab's lease of the Pet Shop has expired. They're empty as ever!
• SOS cards can now be deleted. In the future you'll be able to hold them all, so use the delete button carefully!
• SOS cards are now sorted by rarity.
• When using a restock gags SOS or Unite, gags will now be distributed based on your last purchase. If you didn't purchase the maximum amount of gags you can hold, they will then be randomly distributed starting with the higher gags.
• Toons Hit/Cogs Miss SOS cards now have 3, 4, and 5 star editions. The 5 star edition will last for three rounds, 4 star will last for two rounds, and 3 star will last for one round.

May 11, 2016 [ttr-beta-v1.11.8]
Maintenance:
• Revert a VP boss battle bugfix due to it causing an issue with the CFO. This fix will return shortly.

Bugfixes:
• Fix a crash relating to SOS card deletion.

---
Comments
Sorry! Comments are closed.
---
---
---
---
---
---
---
---
---
---
---
---
---
---
---
---
---
---
---
---
---
---
---
---
---
---
---
---
---
---
---
---
---
---
---
---
---
---
---
---
---
---
---
---
---
---
---
---
---
---
---
---
---
---
---
---
---
---
---
---
---
---
---
---
---
---
---
---
---
---
---
---
---
---
---
---
---
---
---
---
---
---
---
---
---
---
---
---
---
---
---
---
---
---
---
---
---
---
---
---
---
---
---
---
---
---
---
---
---
---
---
---
---
---
Back To Top