More News
Happy Birthday, Toontown!
Posted by The Toontown Team on June 2, 2015 at 2:00 PM
I hope you've stocked up on birthday cakes, because they're rising in price due to the whopping TWELVE candles that we're putting on them for Toontown's Birthday!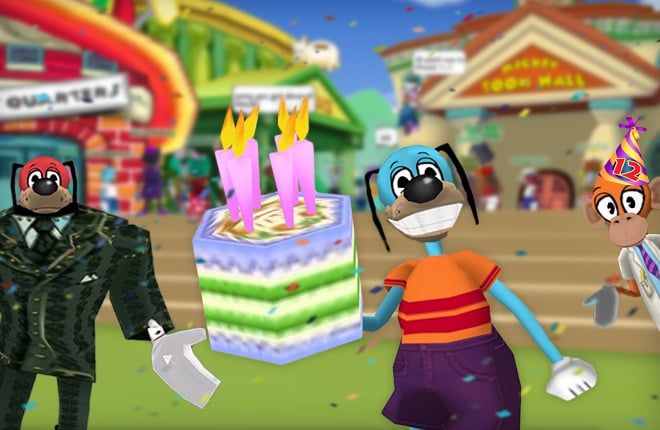 It's been 12 years since Toontown Online's public launch on June 2nd, 2003 -- and one year since our public launch where we introduced that ol'
PlayTime system
! We certainly aren't toning things down this year - in fact, we're bringing them to a whole new level with our first "real-life"
ToonFest
only a few weeks away.
We've been working hard to prepare all of the things we want to show you at the event for our main celebration of Toontown's birthday -- along with the things that you'll see after it -- and you'll hear more about that as ToonFest draws near. It's never too late to order tickets, but in the meantime: we've got some celebrating to do.
For the next 24 hours, make sure to hop into Toontown to see our
Summer Firework Spectacular
every hour, on the hour! You can also use the limited time
"toontastic12"
code in your Shtickerbook for a one-of-a-kind party hat -- available today only! (
Everyone
loved the 10th anniversary one, after all.)
Keep your eyes (and bananas) peeled as well, as you may also see us Toon Troopers running around among the festivities to throw out some Jellybeans and Toon-Ups. If you don't catch us now, don't worry. We'll be back next weekend!
Enjoy the show, and we hope that you stick around to either watch or come to the real party at ToonFest at OMGCon 2015!
June 2, 2015 [ttr-beta-v1.9.5]
Festivities:
• Added the limited-time "Twelfth Topper" party hat to celebrate Toontown's 12th birthday!
• Celebrate Toontown's 12th birthday with hourly fireworks in every playground!

Maintenance:
• Rolled back the experimental DA Office/Cog Golf Course fix.
• Turned on extra logging for Cog Golf Courses to help us diagnose the issues that some players are having.
• Various moderation tool improvements.

June 1, 2015 [ttr-beta-v1.9.4]
Bugfixes:
• Fixed an occasional district reset bug caused by leaving your estate.
• Applied an experimental fix for Mint/DA Office/Cog Golf Course corruption.

Maintenance:
• Updated our latest chat filter pass to reduce the amount of false positives.
• Tweaked the behavior of chat bubbles when choosing gags in a battle. They should now be forced to the margin.
• Cleaned up various NPC dialogue.
• Improved various moderation tools.

---
Comments
Sorry! Comments are closed.
---
---
---
---
---
---
---
---
---
---
---
---
---
---
---
---
---
---
---
---
---
---
---
---
---
---
---
---
---
---
---
---
---
---
---
---
---
---
---
---
---
---
---
---
---
---
---
---
---
---
---
---
---
---
---
---
---
---
---
---
---
---
---
---
---
---
---
---
---
---
---
---
---
---
---
---
---
---
---
---
---
---
---
---
---
---
---
---
---
---
---
---
---
---
---
---
---
---
---
---
---
---
---
---
---
---
---
---
---
---
---
---
---
---
---
---
---
---
---
---
---
---
---
---
---
---
---
---
---
---
---
---
---
---
---
---
---
---
---
---
---
---
---
---
---
---
---
---
---
---
---
---
---
---
---
---
---
---
---
---
---
---
---
---
---
---
---
---
---
---
Back To Top