More News
Cloudy With a Chance of Bossbots
Posted by Sir Max on May 11, 2015 at 9:00 AM
Happy Monday, Toontown! It's good to see you up so bright and early -- that is, unless you're reading this later in the day, in which case you are lazy and a cheating scoundrel. Now, I'm not waking up this early and getting a Jellybean bonus for nothing: It's time for the weather report!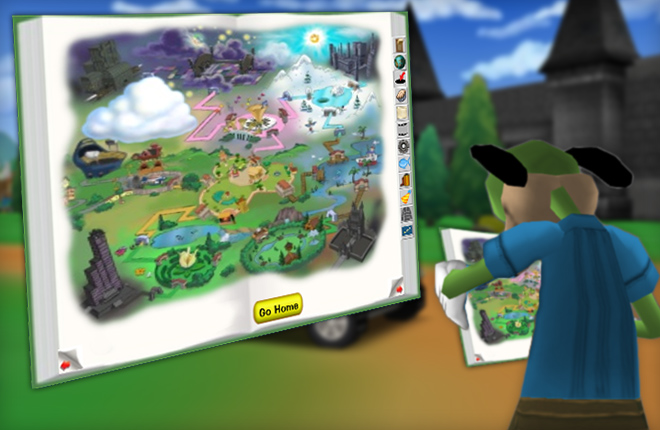 If you thought that Shtickerbook was finally clear of clouds, I hope you enjoyed your clear-sky weekend, because it seems that another cloud has crept up
just
off the outskirts of Minnie's Melodyland.
Could it be a new playground? A Cog Headquarters? A red herring just to increase our excitement? Only time will tell!
(I will tell you that we're all out of red herrings, though.)
The forecast is also calling for increased Bossbot activity over by Acorn Acres - the Toon Construction Crew has finished the tunnel that leads into the dreaded headquarters, but it seems that the Bossbots have been up to their own construction as well. You may notice a few changes around the Headquarters.
Onto the local news! Rumor has it that through all of these documents collected from the C.E.O., Lord Lowden Clear has finally discovered the whereabouts of LHAAFBBHQ. Keep your eyes peeled for information, as they can't be far away.
Now, I've collected my Bean Bonus, so I shall swiftly return to my bed and throw a pillow over my head until a decent time to wake up. I'm thinking 4:30PM. I hate Mondays. Take care, Toons - and watch out for those oil slicks!
May 10, 2015 [ttr-beta-v1.9.1]
Features:
• Activate the tunnel between Chip n' Dale's Minigolf and Bossbot Headquarters.
• You will now rotate if you jump on the spinning gears near the BBHQ Oil Fountain. Watch out for the Cog's sticky oil, though!

Tweaks:
• Lowered Laff requirements for the Middle Six and Back Nine.
• Reduced the number of Cogs roaming the Bossbot Courtyard.
• Lowered the maximum number of Toons in a District at once for more diversity.
• Added minor graphical improvements to Bossbot HQ.
• Version 2.0 status is now displayed in the Battle GUI.
• Added a 4K resolution option to the Shtiker Book!
• Add sound effects to Bossbot Headquarters.
• Mata Hairy and Good Ol' Gil Giggles now have their proper look.

Bugfixes:
• Fix the incorrect message being displayed to Toons who try to enter the CEO Lobby without their Bossbot Cog Disguise.
• Fix misaligned "Executive Office Tower" sign.
• Fix the Oil Fountain not causing damage to Toons who jump in it.
• Experimental fix for Cog Golf Course/District Attorney's Office/Cashbot Mint crashes.
• Fix a bug where Bossbot Headquarters would remain loaded even after a Toon has left.
• Fix a crash relating to the Acorn Acres picnic/game tables.

---
Comments
Sorry! Comments are closed.
---
---
---
---
---
---
---
---
---
---
---
---
---
---
---
---
---
---
---
---
---
---
---
---
---
---
---
---
---
---
---
---
---
---
---
---
---
---
---
---
---
---
---
---
---
---
---
---
---
---
---
---
---
---
---
---
---
---
---
---
---
---
---
---
---
---
---
---
---
---
---
---
---
---
---
---
---
---
---
---
---
---
---
---
---
---
---
---
---
---
Back To Top