More News
Protect Your Toons!
Posted by Sir Max on May 22, 2015 at 2:00 PM
For us Toons to protect Toontown, we need some protection ourselves! Luckily, to help
us
help
you
help us all, the Toon Council has come up with the latest in account safety technology:
ToonGuard
.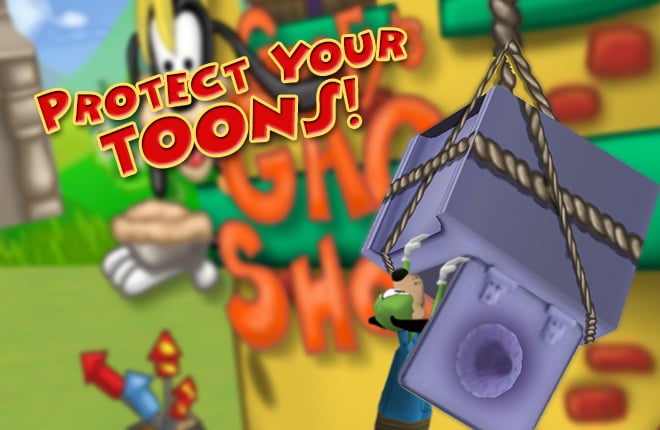 If you've logged into Toontown lately, you probably already know what ToonGuard is! ToonGuard is a protection feature that we've implemented to stop people from logging onto your account without your permission. If we detect a login that isn't in the general area of your computer's location, we'll send you an email to make sure it really is you.
Once you've confirmed that computer for ToonGuard, you'll never have to do it again! We will remember your computer's location so that you can login there and everywhere near it -- but don't worry, this location data is only the general location through your computer's IP address. We won't track ya down!
If ToonGuard becomes an annoyance to you, you can shut it off with ease over in your
Account Settings
. Before you're able to shut it off, however, you'll need to confirm three ToonGuard locations. It can't be an annoyance if you've only used it once or twice!
We're always looking out for the safety of our players over here at Toontown, and you can learn more about ToonGuard right over here on our
help page
or by contacting
Toontown Rewritten Support
.
See you in Toontown!
---
Comments
Sorry! Comments are closed.
---
---
---
---
---
---
---
---
---
---
---
---
---
---
---
---
---
---
---
---
---
---
---
---
---
---
---
---
---
---
---
---
---
---
---
---
---
---
---
---
---
---
---
---
---
---
---
---
---
---
---
---
---
---
---
---
---
---
---
---
---
---
---
---
---
---
---
---
---
---
---
---
---
---
---
---
---
---
---
---
---
---
Back To Top