More News
Super Saturday: Photo "Fun"
Posted by Sir Max on November 16, 2013 at 2:00 PM
HUGE news today, everyone. I just got word that the very first neighborhood of Toontown, Donald's Dock, has finished construction! I've already bought a pretty fine shop on Punchline Place, and other toons are buying up others very quickly. It'll be no time before we can all open for business.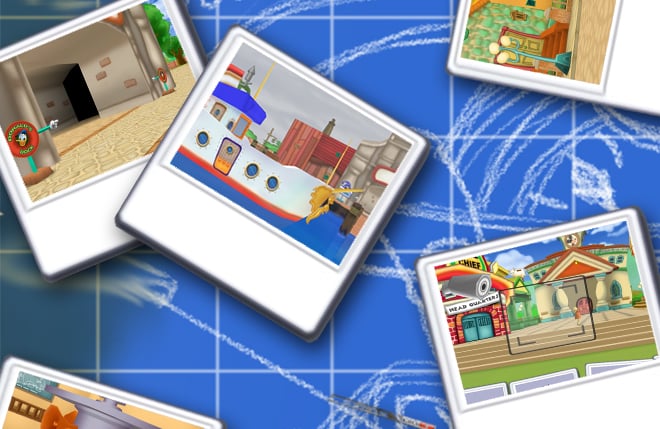 I bet you're all wondering "Sir Max is opening a shop?! Oh boy, this is going to be the best. What is it?" Well fine toons, let me tell you: It is a photo-realistic painting shop! For great prices, you'll be able to pick up your own paintings drawn by none other than this green dog himself. I need to wait on a few... err.. "Shipments" to come in first, however.
Unrelated to that, there is a new Trolley Game that I've been working on. You're going to love this. Alright, so first of all, it actually doesn't take place on any of the Trolley stops. Just meet me on the Trolley and we'll ride it for a bit, then hop off at the playground we were just at. This is part of the fun. Here comes the best part: Everyone grabs a camera, stands in the middle of the playground, and spins around to- wait for it-
take pictures of other toons!
It's actually pretty great. Whoever takes the best picture not only gets some gold stars(
!!!
), but also a hefty sum of Jellybeans. Oh, but you can't actually keep the pictures you took. I need those to.. Uh. "Ship" to somewhere. There is this toon down the block that sells photorealilistic photos. Not photorealilistic paintings that are actually just photos, because that would be a clever way to trick people into taking pictures for him! I don't know
anyone
who would ever do that.
Anyway, let's get back to that new neighborhood. Punchline Place has opened it's doors, and the streets are open! You can head on over to Donald's Dock, fully equipped with a Trolley, pond, and even a boat that
sails itself
! Other neighborhoods are finishing up very quickly, so we want to know which one
YOU
want to open up next. Each day this week we will open up a new area to explore, chock-full of toontastic new things to do.
Now, the Toon Council has seen that there are going to be some bothers as Toontown expands. To help with this issue,
the Toon HQ of Toontown Central is now Open
! It is currently still being prepared for use, but feel free to peek inside. In the future, it will serve as a hub for toons to come together to post tasks that need to be done and also keep a close eye (literally!) on the citizens of Toontown.
November 16, 2013 [ttr-alpha-gdc87065]
Maintenance:
? Tweaks to administrative features
? Major Update: Our new loading system is now complete.

This is a HUGE step in the Alpha process. There are only two more major hurdles that we have to conquer throughout Alpha development: Estates and Battles.

Bugfixes:
? Fix Ice Slide's background flickering through the playing area
? Fix odd Toon HQ door flickering
? Re-add default emotions. Sorry about that!
? Tons of fixes to The Grey leaking into Toontown:

? Wide(er)screen support for Make-a-Toon
? Wide(er)screen support for Loading Screens
? Prevent the Grey from leaking in below the clouds in Robot Thief
? Draw the Jungle of Jungle Vines in leaking Grey Zones
? Actually fix the Grey in the name approval background


Features:
? We've tossed the construction sign into the wood chipper: Punchline Place is now open! Head on over to Toontown's first new neighborhood: Donald's Dock.
? Implement Photo Fun
? Minor Whitelist updates to add some community names
? Open the doors of the first Toon HQ. This is a proud day for Toontown.
? Free Ice Cream! In celebration of this major update, Ice Cream has been spread around Toontown Central.

---
Comments
Sorry! Comments are closed.
---
---
---
---
---
---
---
---
---
---
---
---
---
---
---
---
---
---
---
---
---
---
---
---
---
---
---
---
---
---
---
---
---
---
---
---
---
---
---
---
---
---
---
---
---
---
---
---
---
---
---
---
---
---
---
---
---
---
---
---
---
---
---
---
---
---
---
---
---
---
---
---
---
---
---
---
---
---
---
---
---
---
---
---
---
---
---
---
---
---
---
---
---
---
---
---
---
---
---
---
---
---
---
---
---
---
---
---
---
---
---
---
---
---
---
---
---
---
---
---
---
---
---
---
---
---
---
---
---
---
---
---
---
---
---
---
---
---
---
---
---
---
---
---
---
---
---
---
---
---
---
---
---
---
---
---
---
---
---
---
---
---
---
---
---
---
---
---
---
---
---
---
---
Back To Top