More News
Daily Alpha Update: Everybody do the Flop!
Posted by Sir Max on November 14, 2013 at 2:00 PM
Man oh man, am I excited for today's update. Today's update introduces an art that has been studied for many generations, each one trying to perfect it. That's right, everyone. Today we are introducing
the flop
.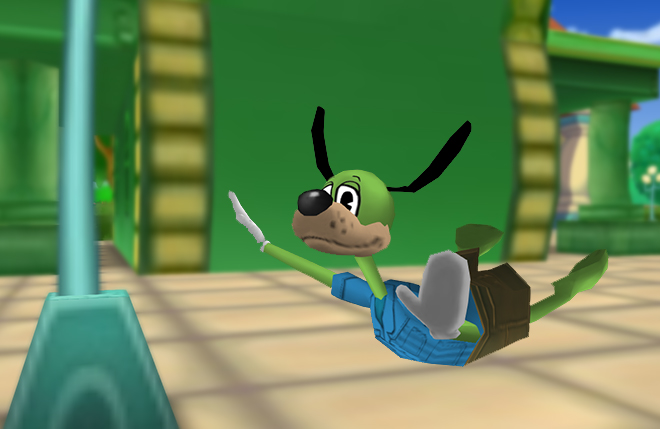 The flop has many shapes and forms. Some may go for the simple trip, while others may practice the more advanced forms such as "
Belly Flops
" or the classic "
Banana Peel
."
The Toons from many generations ago have evolved these traditions from simple gags to an art that takes much of a Toon's life to perfect. If done correctly, the flop can cause
Laughter
from nearby bystanders, and in rare cases, the occasional
Cry
of joy. Don't expect to be able to bring up these emotions on your first try, however.
Wondering how you yourself can ever become as brilliant as to master these hilariously joyful actions? Just spend about 10 hours straight practicing, and then you'll only have a few years to go!
November 14, 2013 [ttr-alpha-g31c9205]
Bugfixes:
? Fix a bunch of flickering objects, Toon Slingshot being the most notable fix.
? Fix a glitch on Treasure Dive that allowed two toons to grab the same treasure, getting double beans. (Thanks for letting us know!)

Features:
? Add Belly Flop, Banana Peel, Laugh, and Cry emotions. Sorry once again for the lack of updates, but brace yourselves for Saturday!
---
Comments
Sorry! Comments are closed.
---
---
---
---
---
---
---
---
---
---
---
---
---
---
---
---
---
---
---
---
---
---
---
---
---
---
---
---
---
---
---
---
---
---
---
---
---
---
---
---
---
---
---
---
---
---
---
---
---
---
---
---
---
---
---
---
---
---
---
---
---
---
---
---
---
---
---
---
---
---
---
Back To Top