More News
Super Saturday: Cow Tipping
Posted by Sir Max on January 25, 2014 at 2:00 PM
It's Super Saturday! Are you excited? I'm excited! A little, anyway. Not full-scale-invasion excited, but I am cow-selling-furniture excited.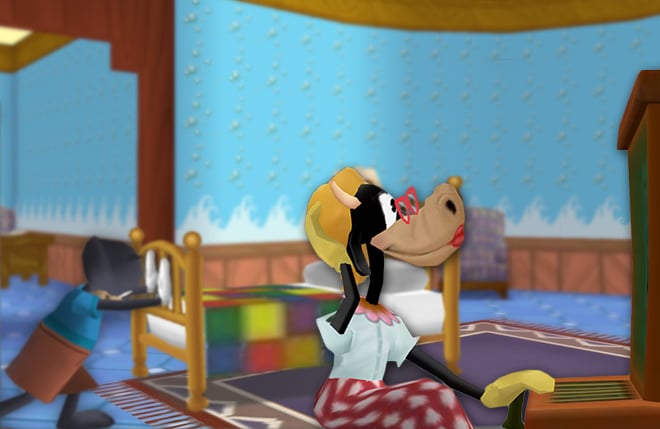 That's right, folks. Barren houses are no longer, because Clarabelle Cow has moved into town and set up her very own phone-in furniture service! She's got everything from knick-knacks to paddy-whacks, and you could even give your favorite dog (Myself, of course.) a bone! Or even better: A chair! You know, that fancy desk chair with the yellow lining? That is one nice chair.
So now you're saying "Sir Max, how can we call Clarabelle if our houses are empty, and no one has a phone? Well, my curious friend who asks way too many questions, you're in luck! Clarabelle has sent out a sampler package to every Toon in Toontown that comes with a full set of furniture, as well as one of those new-fangled phones to call her on and order
more
stuff! Don't bother trying to call anyone on the phone, though, considering she has it rigged up to only call her. Hey, I'm not complaining. It's free!
Now, err, there is a bit of a backorder on those furniture sets. It turns out that making furniture for 300 houses takes a little bit longer than a week to do. Clarabelle is working her hardest (Or more so, "managing" her hardest.) to get that furniture produced with the help of us troopers. We'll have it delivered to each of your houses in no time! Now, I'd love to stick around and chat, but I need to get back to boxing. This furniture has a strong punch, but I can take him. Oh, and I suppose putting the furniture into boxes would be helpful as well. I'll put that onto the todo list.
Happy Super Saturday, and don't forget to tip your local furniture cow!
January 25, 2014 [ttr-alpha-g0bb22d5]
Maintenance:
• Updated parts of Panda3D for furniture support
• Rollback yesterday's back-end update due to crashes

Features:
• Implement house decorating
• Clarabelle sent out a sampler package packed to the brim with furniture for every house in Toontown! We've set it up for you free of charge -- just stop by Clarabelle sometime.
• Clarabelle's Cattlelog is ready for business! Give her a call and order some furniture. For her grand opening, a new series of the cattlelog will come out every day.


Whew! We're wiped out from setting all of those sampler packages. The cattlelog opening is postponed until we can get some more stock made.



---
Comments
Sorry! Comments are closed.
---
---
---
---
---
---
---
---
---
---
---
---
---
---
---
---
---
---
---
---
---
---
---
---
---
---
---
---
---
---
---
---
---
---
Back To Top