More News
Celebrating the Community for Toontown's 19th Birthday
Posted by The Toontown Team on June 2, 2022 at 2:00 PM
On September 19th, 2013, Disney's Toontown Online closed its doors after running for ten long years. Many people thought this closure would mean the end of Toontown for good -- so who woulda thunk that we'd be here for nine MORE years?! As is tradition, break out the party hats, birthday cake, and... beach balls? Today is Toontown's 19th Birthday, which means it's time to celebrate!!!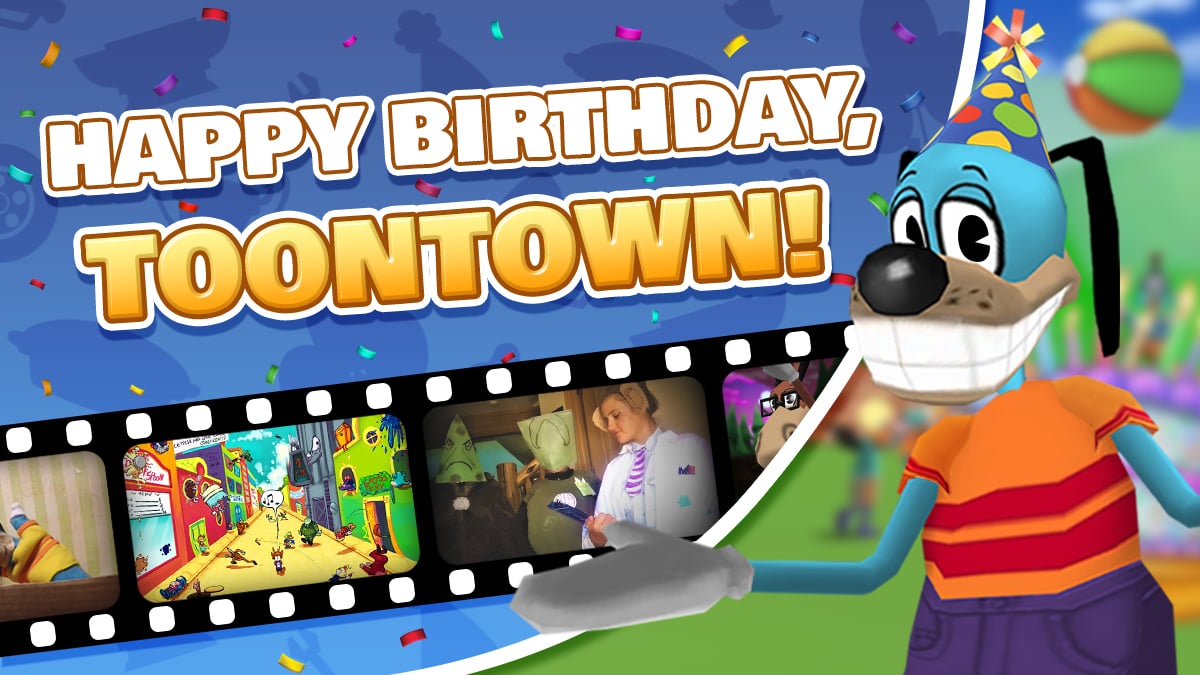 It's incredible to think about how long Toontown has been around, even when it was meant to shut down so long ago. It means so much to all of us on the Toontown Rewritten Team that it's still alive and well after so many years, which wouldn't be possible without the passion that you can find all over Toontown's community.
From creating an endless amount of fan art and videos and even Content Packs, to hosting fun-filled events in the game like our awesome Toontown Partners do, to making entirely unique takes on Toontown separate from our own -- all of these and more are a huge part of why that game that shut down nearly nine years ago is still thriving.
An astonishing amount of fan works, fun screenshots, and more have been featured across the Toontown Blog over the years. We just wish we could feature it all again! Hey, wait... Why not?
Whether you're reminiscing or seeing these for the first time, you should check out everything above. It's a huge blast to go through and see everyone's creations! Seriously, without all of you, Toontown wouldn't be as great as it is today.
If you're looking for even more to delve into, this may be a good time to mention the Toontown Preservation Project, which released for Toontown's birthday last year. Hosted at toontown.online, this is a massive digital museum that's filled with various concepts, artwork, design docs, and more from Toontown Online -- so much that you could just get lost looking through it all! There's been some sweet additions since the release last year, such as the original design docs for Field Offices. Those documents, among many other things, were provided to us by the community. If you have anything you'd like to contribute, you can see how at the site above.
Toontown has quite the rich history, with everything across its development and from within the community. We're amazed that we can still provide updates through Toontown Rewritten to this day, like our recently-released Sellbot Task Force: The Last Laff. Now, to finish things off... Back by popular demand, beach balls will be appearing in every Playground until June 9th to celebrate! Thank you all so much for playing, creating, and keeping this community as amazing as it is!
Happy Birthday, Toontown!
---
Comments
Sorry! Comments are closed.
---
---
---
---
---
---
---
---
---
---
---
---
---
---
---
---
---
---
---
---
---
---
---
---
---
---
---
---
---
---
---
---
---
---
---
---
---
---
---
---
---
---
---
---
---
---
---
---
---
---
---
---
---
---
---
Back To Top