More News
Breaking News: Cogs Call a Toon Truce?!
Posted by Daisy Nusecaster on November 20, 2021 at 12:00 PM
Good afternoon, Toontown -- my name is Daisy Nusecaster. I'm coming to you with an exclusive blog report from Toontown's favorite news network, Toon News... for the Amused!
All eyes are on Toon Hall this evening, as insiders tell us that the Sellbots have approached the Toon Council with a deal unlike anything we've ever seen: a truce between Cogs and Toons!
Sellbots love to seal a deal, and it looks like the Cogs have sent out Glad Handers to call a truce with Toons! After all these years, are the Cogs finally ready to make peace? Or is this another tricky trap from those geared-up goons?
A copy of the contract has been released by the Toon Resistance, who are currently attempting to decode the document for any clues about the Cogs' motives. You can read the fine print right here -- that is, if you can decipher it!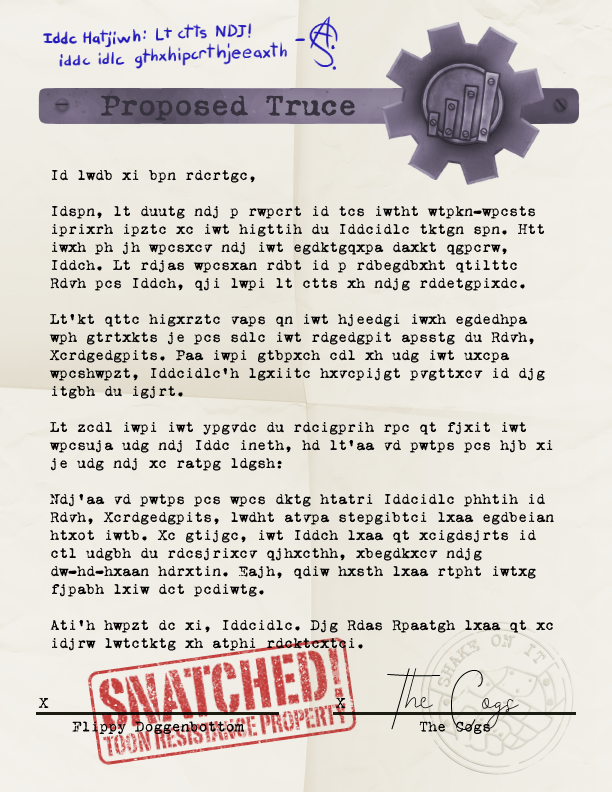 We can't get a grip on this handful of a development... What do YOU think?
This has been Daisy Nusecaster, bringing you the latest Toon News... for the Amused!
---
Comments
Sorry! Comments are closed.
---
---
---
---
---
---
---
---
---
---
---
---
---
---
---
---
---
---
---
---
---
---
---
---
---
---
---
---
---
---
---
---
---
---
---
---
---
---
---
---
---
---
---
---
---
---
---
---
---
---
---
---
---
---
---
---
---
---
---
---
---
---
---
---
---
---
---
---
---
---
---
---
---
---
---
---
---
---
---
---
---
---
Back To Top