More News
Partner Spotlight: Toontown Rewritten Facebook Group
Posted by The Toontown Team on April 28, 2021 at 2:00 PM
If you love Facebook and Toontown Rewritten, the Toontown Rewritten Facebook Group is the place for you! We recently met up with five of their representatives -- Rebecca, Lee, Jini, Caleigh, and Moonless -- to see what they had to say.
For those who are unfamiliar with the group, Rebecca (a Cartoonival Blue mouse named Kaelyn in-game) describes the Toontown Rewritten Facebook Group as a community dedicated to everything relating to Toontown Rewritten. Toons are invited to ask for help with gag training and ToonTasks, celebrate accomplishments like maxing gags or Cog suits, and share their Toontown artwork -- and that's only the beginning! Keep reading for the Toontown Rewritten Facebook Group's full interview.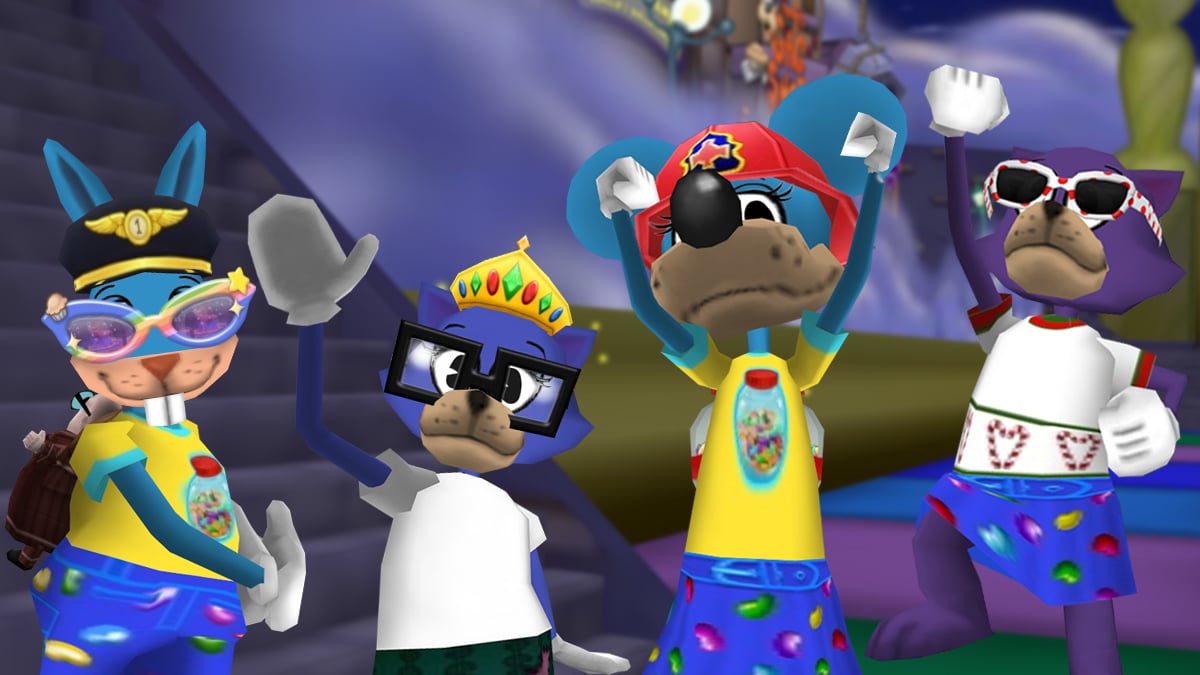 I'm excited to meet with you all and ask some fun questions! My first question is for Jini, who is better known as a Toon named Polar Bear E. Bearzerk in-game. So, Jini, what kinds of tomfoolery does the Toontown Rewritten Facebook Group get into?
We don't actually make mischief but may get into mischief in the game. Many of our members have multiple accounts, and management of so many Toons can get rather tricky! Mischief randomly happens when Toons don't realize that a person is actually playing more than one Toon!
Witnessing multi-Tooning in action for the first time is definitely an exciting experience! I can see how that would be confusing, especially for new players. In fact, for several months after discovering multi-Tooners, I still couldn't figure out exactly how they did it!
My next question goes to Lee, who you may have met in-game on his Toon, Jinx. Lee, how has Facebook as a platform helped the Toontown Rewritten Facebook Group and its members connect?
It helps many users connect with new, existing, and old Toontown players around the world to share their nostalgia, knowledge, and experiences. It also helps Toons find groups, friends, and even support along the way.
That's awesome! A majority of the Toontown content creators and communities are located on platforms such as Twitch, YouTube, and Discord, so it's always nice to find communities like yours who utilize other platforms too. My next question goes to Caleigh, whose main Toon is a spooky purple cat named Asuna. Caleigh, what's your favorite part about being involved in the Toontown Community?
My favorite part about being a part of the Toontown community is being able to help smaller Toons who are just starting out. I remember being a baby Toon and not knowing what to do and being a little intimidated by everything, and I met one of my BEST friends when I was 17 Laff. Since then, I've made a few friends who I've also helped in their Toontown Rewritten journey, and it brings me so much joy to see them thriving and having a blast!
Aww, that's a great answer! We all have to start somewhere, and having another kind Toon offer to help out is always sweet. We have room for one more question, so we'll let everyone answer this one! What is everyone's favorite Trolley game, Moonless?
I would say my favourite Toontown Trolley Game is the Maze Game. It has remained my top game since 2008! Kaelyn's favorite is Doodle Roundup, Jinx's is Tug of War, Asuna's is Maze Game, and Polar Bear E. Berzerk's is Ice Slide.
Those are all super fun, and I'm glad to hear that one of the new Trolley games, Doodle Roundup, is becoming a favorite! I'd like to thank you all for meeting up today for this interview and for taking part in the Partner Program. Your community has flourished so far, and I can't wait to see what comes next. For anyone else interested in joining the Toontown Rewritten Facebook Group, click the button below!
---

Disclaimer
Facebook's Terms of Service require you to be at least 13 years of age and the minimum age of digital consent in your country to use their platform. Toontown Rewritten is not responsible for this Facebook group nor for Facebook as a platform. Furthermore, Toontown Rewritten has no control over what content is posted or shared. As this Facebook group is run by a Toontown Rewritten Community Partner, though, we can ensure that any content in this group is PG-13.
---
Comments
Sorry! Comments are closed.
---
---
Back To Top