More News
Toontown's Pet Shop Perils
Posted by Clerk Poppy on April 1, 2021 at 12:00 AM
Citizens of Toontown: WE NEED YOUR HELP! At the stroke of midnight, all of the Doodle rescues across Toontown suddenly went out of control with silliness. Before our Pet Clerks could even grab a bottle of seltzer, the Doodles were bouncing off the walls and straight out of the door! We could have sworn that we even heard a few speak... Like, really speak.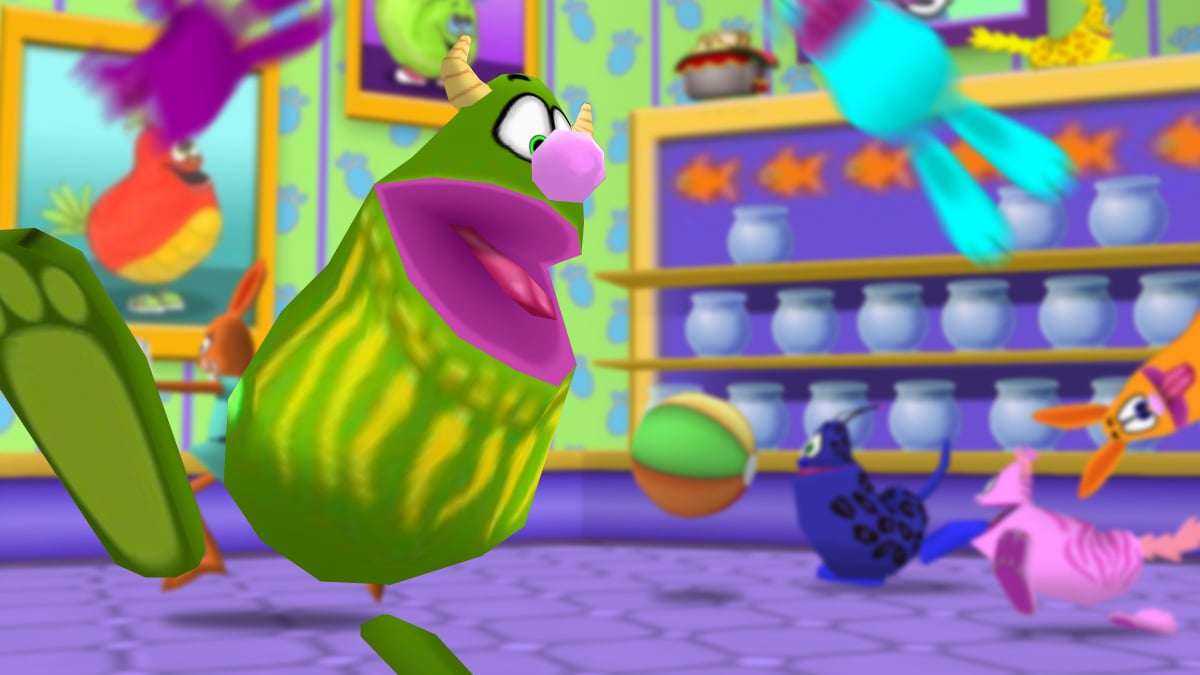 They say that Doodles are a dog's best friend, which is the only reason we can imagine that Flippy has sent his very own Doodle, Fluffy, to investigate this emergency in place of a Toon Trooper. You can't make this stuff up, folks.
Word has it that Fluffy is walking around Toontown Central and enlisting Toons to help him find his friends with two new ToonTasks! One of the ToonTasks will reward you an old favorite April Toons Week outfit, and the other comes with a brand new accessory: The Emergency Cream Pack! (A Toon named Wess designed this accessory themselves, and won a contest to have it created by the Toon Council. Thanks, Wess!)
Don't get us wrong, we have...some amount of faith in Flippy's faithful sidekick to help out. Just in case he gets sidetracked by a nearby flying pie, however, we came up with a backup plan. Starting today, you can help us on our Doodle hunt by playing one of the two brand new Trolley Games!
The first one, Doodle Roundup, allows you to compete with your friends to wrangle the most runaway Doodles! In the second game, Spotlight Search, one Toon uses a flashlight to find up to three others who are hiding in the maze! Be sure to let the Toon Council know what you think of these games through our support email or the official Toontown Discord Server, as they'd love to hear about which one is your favorite.
To celebrate these brand-new Trolley Games, you can find a new furniture item called the Trolley Toaster in your next Cattlelog issue.
All of this means we're getting two new ToonTasks, two new Trolley games, and two new items TODAY! Plus, since it's April Toons' Week, I've heard from Loony Labs that you can expect double Silly Points and shorter Silly Meter cooldowns as a result of all of the silliness and pranks happening around Toontown! Check out the release notes below for a full list of changes.
Anyhow, I better run -- literally. It looks like the Doodles have started putting us Pet Clerks up for adoption! See you on the Trolley!
April 1, 2021 [ttr-live-v2.8.0]
General
• Added two all-new Trolley games -- "Spotlight Search" and "Doodle Roundup"!
• Removed the long-standing "ghost dock" issue prevalent throughout all of Toontown. The only ghost that we need is the ghost ship in Donald's Dock!
• Doctor Surlee re-stabilized the Toon-space Contoonuum, and all shopkeepers have been reverted back to their appearance in v2.6.8. Shep Ahoy is happy to be a horse once more!
• Gag Shop Clerks will no longer ask you "Need more time to think?" before the timer reaches zero, causing your Toon to get stuck.
• Fixed a bug where partially obscured NPC chat bubbles would be un-clickable, and force you to interact with the chat on the HUD. Now, NPC chat bubbles must be fully obscured before they appear on the HUD.
• Facility Cogs no longer all talk over each other when you enter a facility battle.
• When creating a new Toon in the Toontorial, you will no longer receive start-up messages from the game (invasion messages, special event messages, etc.)
• Fixed a bug where large versions of Content Pack icons would occasionally flash on-screen when starting the game.
• Addressed loading issues with tunnel street signs.
• Fixed over a dozen different crash issues across the game.

April Toons Week
• There's no predicting what silliness might happen during April Toons Week! Loony Labs gave us a list of their predictions, which means at least *some* of the release notes in this section are real... Which ones? We'll let you be the judge of that!
• Fluffy has arrived with an all-new ToonTask, featuring the Emergency Cream Pie Pack as a reward! A Toon named Wess designed this accessory as part of our Accessory Design Contest at a previous in-person ToonFest!
• Fluffy has also dug up some old supplies of the Cog Buster outfit, and is offering a more challenging ToonTask in exchange for it.
• Re-implemented the long-standing "ghost dock" issue prevalent throughout all of Toontown.
• Repurposed ghost docks for dock parkour, or as we like to call it, "dockour".
• Created a randomly-appearing bouncy beach ball for Playground fun. Don't let it bounce away!
• The Donald's Dreamland pillow is now accessible -- and acts as a giant trampoline!
• Donald's Dock has been drained! Too bad for that ghost ship...
• De-stabilized the dock-time continuum.
• All ponds are now a perfectly reflective mirror. This requires high-end ray-tracing capable hardware.

Accessibility
• Implemented an auto-jump option. When you run towards a ledge, your Toon will automatically time their jump perfectly with this option turned on!
• Implemented an all-new ring model in the Ring Game to improve visibility for vision-impaired players.

Visuals
• Upgraded all Cog emblems across the game to appear at a higher quality.
• Upgraded the iconic pie model with a higher-quality texture and general fixes.
• Implemented an updated "giant jellybean" model with higher quality textures, which is used in the Trampoline game at parties.

Music
• Added a new music track that plays during the C.F.O. crane tutorial.
• Added a new music track that plays during the C.F.O. battle.

Estate
• Fixed a long-standing error when accepting Toon Rewrites, Game Rentals, and certain other items from the mailbox.
• When the Speedy Garden Growth Silly Team is active, trees and flowers will no longer become stuck.
• If your house is missing a phone due to a glitch, one will automatically be sent to you in the mail.
• In the Estate Cannons mini-game, landing in the pond will no longer cause your Toon to get stuck.
• Girl Toons will no longer be sent an extra Closet in the mail.
• Addressed an issue that would cause accessories to disappear.
• Fixed various estate and gardening related issues.

Goofy Speedway
• Parking spots will no longer break after a Toon disconnects unexpectedly.
• Implemented a fix for the long-standing issue that would cause the Grand Prix to not start.

Known Bugs
• Some AMD graphics cards have been experiencing flickering black textures in-game for the past several months. A fix has been made on the engine level, and will be available in Toontown Rewritten in a future update soon.
• As of the 2.7.0 update, the ability for Content Packs to include custom battle music for each area has bugged, and sometimes custom textures are applied inconsistently. We're aware of this bug and a fix will be available in a future update.

---
Comments
Sorry! Comments are closed.
---
---
---
---
---
---
---
---
---
---
---
---
---
---
---
---
---
---
---
---
---
---
---
---
---
---
---
---
---
---
---
---
---
---
---
---
---
---
---
Back To Top