More News
Un-Gluing the Gate
Posted by Sticky Lou on September 15, 2020 at 9:00 AM
Today is the story of musical glue, a prototype I designed to bring direct to you!
I was out on a walk, glue jar in hand. Out by the gates, I encountered a band. They were playing a splendiferous tune, something that would really make my glue swoon. Cautiously, I unfastened the lid. That's when I saw the sonata man -- Sid!
I hollered, "Hey, Sid! How do you do?"
"Well if it isn't my pal, Sticky Lou!"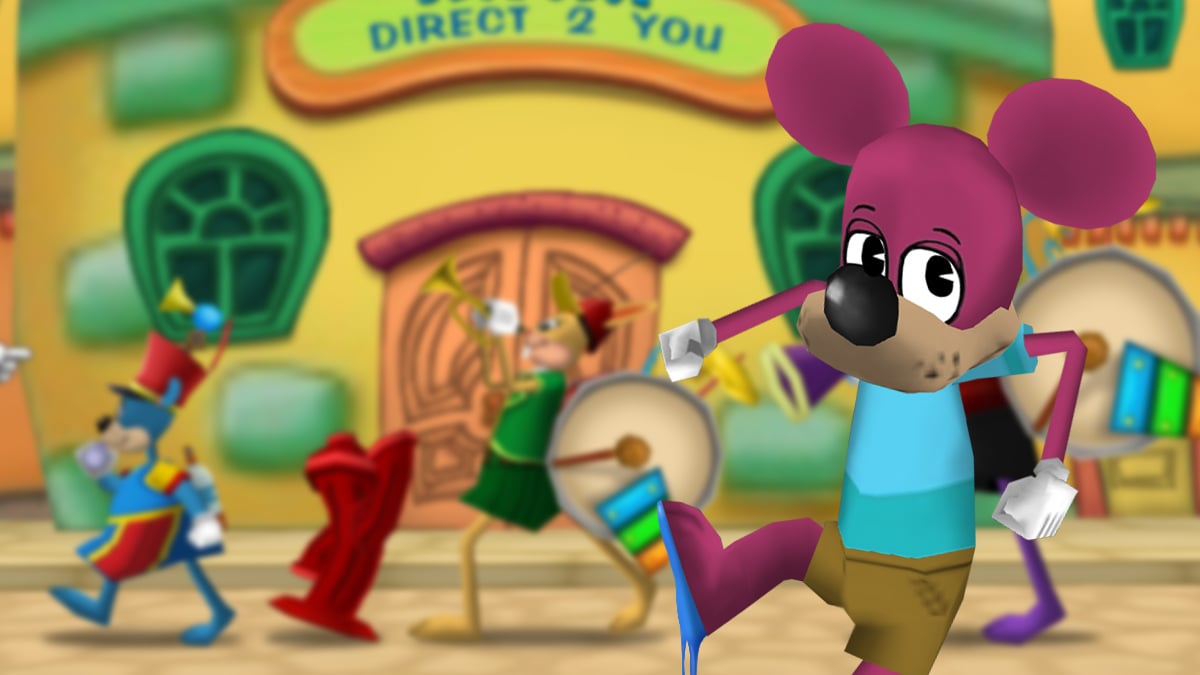 Distracted, we spoke about that and this. Meanwhile, the glue had reached a state of bliss. Slowly it floated quite high in the air. Singing along with a voice oh so fair. It grew as it crooned, covering the gate. By the time I noticed, it was too late!
My musical glue had sealed the gates shut. Toontown was closed, no ifs, ands, or buts. Quickly, I gave the Toon Troopers a call.
"We can fix it!" they said, "We're Troopers, after all."
They arrived with hoses and sprayed through the night. But by morning there was no end in sight! Then, upon the Troop, a great idea struck. Mayhaps a good tune will get things unstuck!
"C'mon, everyone! Get out your kazoos!"
Then the Troop hummed a song just for the glue. Buzzing along, the glue began to let go. The kazoo song was quite an excellent show! I ran to it, then, blue kazoo in hand.
"It's time to shrink and join in the band!"
Slowly it shrunk, holding close the kazoo. I opened the jar and captured my glue. The Troopers all cheered as they opened the gates. Toontown is open again -- don't be late!
A Note From the Toontown Team
We had some security work to do behind the scenes that unfortunately lead to the game being offline. A big thank you to everyone for your patience. We know how important Toontown is and want it to always be accessible. As a part of the security maintenance, we have updated the Windows launcher to v1.2.5! Before you can get into Toontown, you will need to install the latest version (your launcher should prompt you) from our website.
Depending on your antivirus, the file for the new launcher may trigger a popup warning. This is not because it's malicious, but rather because Toontown Rewritten is an unknown publisher when it comes to what antivirus software knows. You should be able to bypass this warning by clicking "more info" and "run anyway." These specifics might change depending on your specific antivirus software. If you run into any trouble, send us an email at support@toontownrewritten.com!
---
Comments
Sorry! Comments are closed.
---
---
---
---
---
---
---
---
---
---
---
---
---
---
---
---
---
---
---
---
---
---
---
---
---
---
---
Back To Top