More News
S-super S-s-Saturday: Frozen Solid
Posted by McQuack on December 28, 2013 at 2:00 PM
Mmm-Mmmphph, mmph mph. Mmph!
sound of a blow-dryer
Mmmp--AHHH. Much better. Sorry about that, my beak hadn't been dethawed yet. Hello, toons. McQuack here.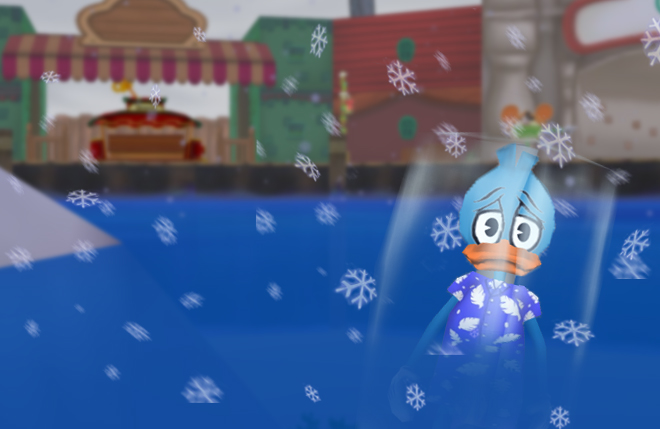 Sir Max ran off with some blue dog to work on something. He mentioned explosives, so I recommend staying somewhere safe tomorrow. Nevertheless, he asked me to do this update today while he was gone. Boy, is it a good one! Or more so, it was going to be a good one.
I'm sorry to tell you toons, but development is frozen for today.
Literally
. I was on my way to put together today's big Super Saturday Extravaganza, when I tripped and fell into a lake. And by lake, I mean the Donald's Dock Harbor. With snow outside. In -15°F.
Upon falling into the water, development was literally frozen solid. I thought that people only turned into icecubes in cartoons, when suddenly I figured out that we are in fact
inside
of a cartoon. Who knew?
It's not a complete disappointment, though! Slappy informed me that he would stick around another day to let the snowball fights continue, and boy are they getting intense. I've heard that quite a few toons put together a huge organized snowball war yesterday, and I can't wait to join one. The lightbulbs for the Brrrgh just arrived however, so you better get to those fights soon before Lil Oldman puts an end to this Blizzard.
Welp, I need to get back to being defrosted. Sorry for the frozen development!
---
Comments
Sorry! Comments are closed.
---
---
---
---
---
---
---
---
---
---
---
---
---
---
---
---
---
---
---
---
---
Back To Top