More News
Partner Spotlight: Smirky
Posted by The Toontown Team on May 30, 2020 at 2:00 PM
The Toontown Rewritten Partner Program is now in full swing! It's almost been a month since the program was launched -- and we already have 14 Content Creators and 5 Communities partnered with us. One of the first people we partnered with was popular Toontown streamer Michael Mairs. You may more commonly know him as the livestreamer Smirky, or as his Toon in-game, Smirky Bumberpop! In our first ever Partner Spotlight, we sat down with Smirky to talk to him about his history with Toontown, streaming, and his recent fundraising efforts for St. Jude Children's Research Hospital.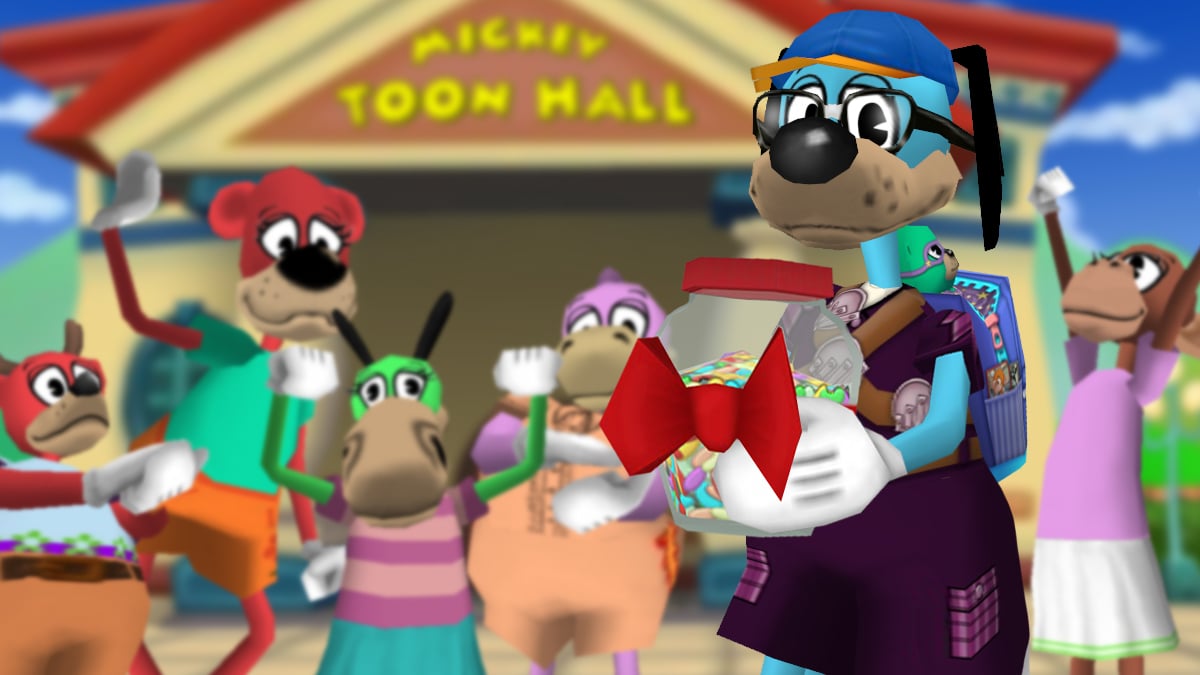 We asked Smirky to give us a little bit of insight into his time with Toontown and livestreaming, and this is what he had to say.
"I started playing Disney's Toontown Online back in 2008, and was one of the very first Alpha Testers for Toontown Rewritten back in 2013! Some of you may have seen me at previous real life ToonFest events, which I've been attending since 2016.

I have streamed a variety of interactive games, including Toontown, ever since 2012, and continue to stream games like Toontown Rewritten on Twitch after almost 8 years total of broadcasting. Livestreaming gives creators the opportunity to interact with a live audience in real-time, and I've cultivated an incredible community filled with friendships, memories, and endless laughter that keeps me going to this day!"
For the past month, Smirky has been streaming to raise money for St. Jude Children's Research Hospital. St. Jude runs an annual campaign through the month of May called "PLAY LIVE", where the gaming community rallies together to raise funds for the charity. This is Smirky's third year participating in the campaign, and this year alone he's already raised over $16,000! There's just under 48 hours left of this year's campaign, and so far over $2,900,000 has been raised for St. Jude overall. We wanted to get Smirky's opinion on the success of his, and the entire campaign's, efforts.
"Fundraising for St. Jude is one of the highlights of my year! The success of my campaigns alone have helped fundraise over $25,000 for St. Jude since 2018, and every dollar and cent goes directly to St. Jude. St. Jude Children's Research Hospital helps the world understand, treat, and defeat childhood cancer. Families never have to pay a bill for medical treatment, housing, food, or travel costs.

It was recently announced that the PLAY LIVE initiative has raised over $25,000,000 since first starting all those years ago, and getting the community to come together as part of this incredible movement has been nothing short of amazing! I've had the chance to travel to St. Jude, visit the hospital, and see the smiles on the kids faces. I guess you could say that these kids are 100% "TOON Enough"!

I had a family member who was diagnosed with Stage 2 Ewing's Sarcoma, a rare form of bone cancer, back in September of 2019. St. Jude has ensured that our family does not have to worry about costs, and we can focus on the one thing that matters--making sure they're happy and healthy. I have to say a great big, Toontastic, THANK YOU for the effort the Toontown community is putting in, we are coming together and truly changing lives."
Finally, we just had to get the scoop. We asked Smirky the all important question that everyone's so obviously had on their mind for years now, "Where do Cog parts go when they explode?"
"You know, I've always wondered how the streets of Toontown are not flooded with blown up Cog parts. Maybe the grey zone has something to do with the disappearance of the parts..."
You heard it folks, watch out for the grey! Anywho, make sure to TOON in to Smirky's last few fundraising streams this weekend. His next stream will be at 3:00pm Toontown Time today, so be sure to drop by and show him some of that Toontastic spirit. Let's help Smirky close out his month of fundraising with a bang! If you have a few spare Jellybeans lying around that you'd like to donate to St. Jude, you can do that here.
---
Comments
Sorry! Comments are closed.
---
---
---
---
---
---
---
---
---
---
---
---
---
---
---
---
---
---
---
---
---
---
---
---
Back To Top