More News
Gadzooks, it's Christmas
Posted by Flippy on December 25, 2019 at 2:00 PM
On the eleventh day of winter, Toontown gives to you:
Merry Christmas Wishes,
A Polar-Palooza,
Twice the Gag experience,
Fuzzy festive outfits,
Ruby-red-nosed Reindeer,
Blankets of soft snow,
A MEGAAAAAA COG INVASION!
(bum bum bum...)
Soulful singing Snowtoons,
Jolly winter jams,
Out-of-this-world ornaments,
And the start of a festive jamboree!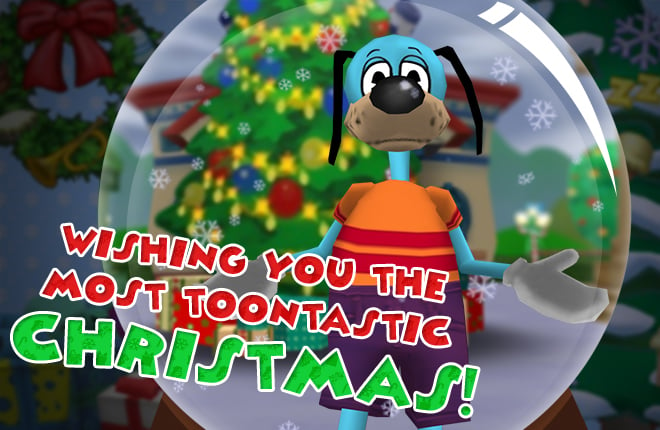 Toons of the world, Merry Christmas! As with every year, the 12 Days of Winter have been an absolute blast! There's nothing more heartwarming than seeing the spirit of giving, whether it be a boatload of presents or helping Holly Daze once more! If it weren't for all of you, SantaToon wouldn't be able to get presents to all of Toontown.
From everyone on the Toon Council, I'd like to wish you a very Merry Christmas! We've had a very eventful year, so it's nice to be able to come together as a Toontown family. You may have heard it from Loony Labs over Thanksgiving, but today I'd like to deliver a message of thankfulness from The Toon Council. The Twelve Days of Winter have been Toontastic -- because of YOU! We truly live in a better Toontown because of your hard work fighting back against the Cogs, not to mention your help all around Toontown. Truly, you are all TOON ENOUGH!
As we wrap up the 12 Days of Winter tomorrow, The Toon Council has started looking towards the next year. We've got a little something special planned to help welcome in the new year, so you won't want to miss it! Our plans are TOP Secret right now, but many Toons out there probably already know what we're planning. I'll see you in the new year!
Toons of the world, UNITE!
---
Comments
Sorry! Comments are closed.
---
---
---
---
---
---
---
---
---
---
---
---
---
---
---
Back To Top