More News
Deck the Cogs with Cartoon Shtick
Posted by Snowman on December 18, 2019 at 2:00 PM
On the fourth day of winter, Toontown gives to you:
Soulful singing Snowtoons,
Jolly winter jams,
Out-of-this-world ornaments,
And the start of a festive jamboree!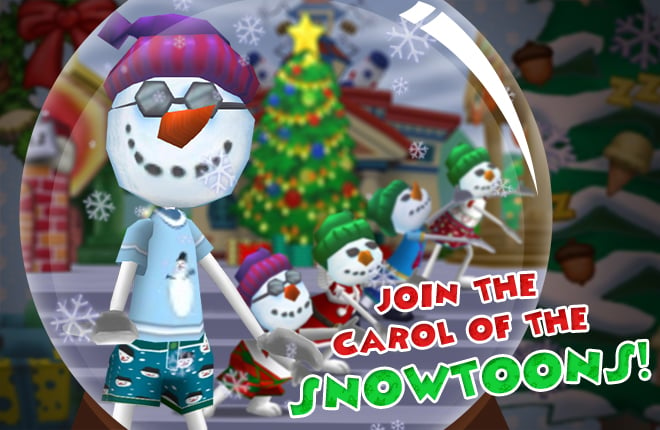 Happy Holidays, warm fellas! It's amazing, every year in Toontown we set a record amount of snowfall around this time of year. With lots of snow, you know what comes next -- the Snowtoons are back in town!
What, you've never seen a Snowtoon before? We're just like any regular Toon, only made of snow. The confusing part of it all -- my name's Snowman! This is Snowball, Snowangel, Snowshoe, and Snowcat, the rest of the chorus. We were supposed to host a special Winter Caroling show in Toon Hall later today. There's just a tiny issue: Toon Hall is too warm! Apparently some Scientoons moved in this year who like their hot cocoa a little too hot.
I'll be honest with you, we'd rather not risk melting, even if it is the greatest event of the season. Call us a Scrooge, but Snowball just can't get in the spirit when they're looking more like a snow puddle. As with any holiday celebration, however, the show must go on!
How will we make it up to all the warm folks in Toontown? I got it -- Let's do another Winter Caroling hunt! If we can't put on a show, we can teach all of you how to do it! Come along Snowtoons -- lets scatter around Toontown and give every warm fella you see a little lesson in caroling!
You'll have to search all over Toontown for the other Snowtoons to learn their favorite holiday jingle. Don't fret! I'll be the start of the hunt. I'll be in Toontown Central's playground working to spread a little holiday cheer. Bring me an empty ToonTask slot and I'll give you my limited-time holly-jolly holiday ToonTask!
Now hurry along! Hopefully, the next time we see each other, you'll be ready to learn the serendipitously secrets of Christmas Caroling.
---
Comments
Sorry! Comments are closed.
---
---
---
---
---
---
---
---
---
---
---
---
---
Back To Top