More News
The Twelve Days of Winter Are Back!
Posted by Sir Max on December 15, 2019 at 2:00 PM
On the first day of winter, Toontown gives to you:
The start of a festive jamboree!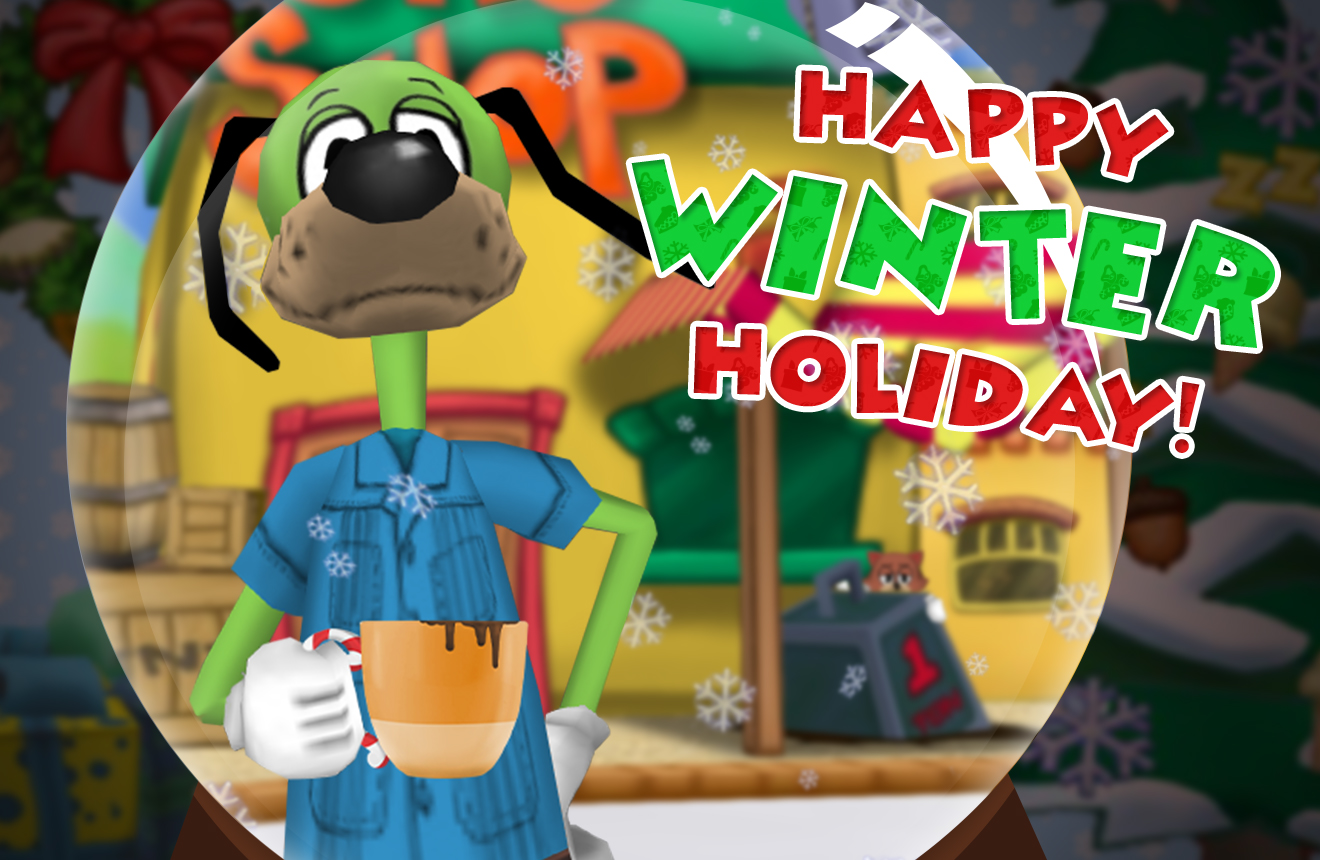 Hey folks, Sir Max here again -- now with less weight! It's amazing what diet and exercise can accomplish in just two weeks. I suppose that's a perk to being a Toon. Now it's time to put on some winter weight. On an unrelated note, what kind of marshmallows do you like in your Hot Cocoa? A ton of little itty-bitty ones? Perhaps a few jumbo-sized? Well, you gotta tell me quickly. I just ran out of itty-bitty ones and I'm about to order more from Clarabelle. Yes, those are six empty packets of instant Hot Cocoa on the ground. Yes, those are two empty bags of Jumbo-Sized Marshmallows next to them. Yes, I have some Itty-Bitty Marshmallows in my shirt pockets. No, I don't feel sick at all. Why do you ask?
Y'know, what could be better Hot Cocoa, Marshmallows, and Chilly Weather? I sure can't think of anything -- but I'll probably be singing a different tune once ValenToon's day comes around. Speaking of Chilly Weather, the winter season has finally kicked in! Well, almost. Today marks the start of Toontown's Twelve Days of Winter! For the next twelve days, Toontown will be turning into a winter wonderland, with a holiday-themed activity every day. Be on the lookout for eleven more wintry updates in the next eleven days! There'll be blankets of snow, limited-time ToonTasks, silly costumes, tons of festive decorations, and more!
Ah drat, I forgot the decorations! I'll have to postpone that Gag Shop run if I want to outdo him. I'm a longtime rival of Toontown's number two Christmas decorator, Hawkheart. I'm sure he's already out there planning his decorating spree. Perhaps he's even spying on me right now... The sugar rush should be kicking in any minute now. It ought to keep me alert and focused during our… confrontation.
Stay Tooned, Toons! The festivities are just about to begin!
---
Comments
Sorry! Comments are closed.
---
---
---
---
---
---
---
---
---
---
---
---
---
---
---
---
---
---
---
---
---
---
Back To Top