More News
The Most Wonderful Time of the Year!
Posted by Professor Flake on December 17, 2019 at 2:00 PM
On the third day of winter, Toontown gives to you:
Jolly winter jams,
Out-of-this-world ornaments,
And the start of a festive jamboree!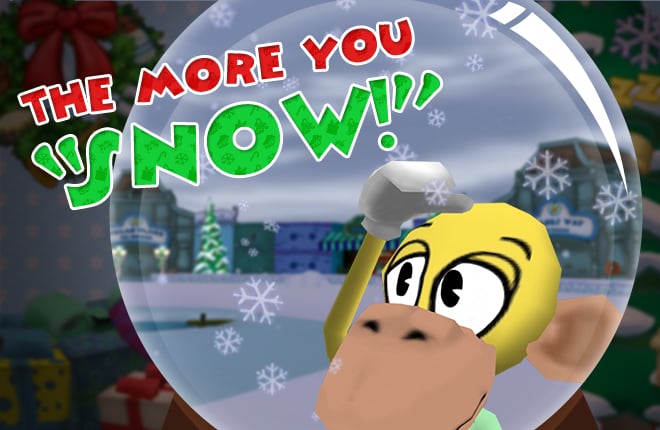 Toons, it's that time of year again! I'm Professor Flake of The Precipitation Foundation, a branch of Loony Labs that I run in The Brrrgh. According to my chillingly exceptional observational skills, I can conclude that Doctor Surlee's Super Duper Air Conditioner has shifted into overdrive and is spewing snow ALL ACROSS Toontown!
For those that aren't caught up, Doctor Surlee created the Super Duper Air Conditioner to cool the Brrrgh's once blazing-hot weather. After going haywire, it turned the playground into what it is today - a wintry wonderland! Around this time of year, the naturally cold December weather sends the machine into maximum overdrive, causing snow to fall everywhere in Toontown.
Every year, this special snow somehow transforms the music of Toontown into wintry holiday jingles! Thanks to my cool-as-ice research, I have traced the cause of the transformation to none other than Minnie's Melodyland! It seems as though the special snow falls into the playground's giant tubas and trumpets and is blasted out when the instruments get too stuffed. Along with the snow, special holiday music comes careening out the tubes and spreads across the rest of Toontown!
I still need to conduct more research on the matter. How does the Super Air Conditioner's snow physically change the instruments' tunes? I'll have to bust out my teeth-chattering-ly phenomenal researching skills to solve this melodic mystery!
---
Comments
Sorry! Comments are closed.
---
---
---
---
---
---
---
---
---
---
---
Back To Top