More News
Rockin' around the Mailbox
Posted by Postmaster Pete on December 22, 2019 at 2:00 PM
On the eighth day of winter, Toontown gives to you:
Fuzzy festive outfits,
Ruby-red-nosed Reindeer,
Blankets of soft snow,
A MEGAAAAAA COG INVASION!
(bum bum bum...)
Soulful singing Snowtoons,
Jolly winter jams,
Out-of-this-world ornaments,
And the start of a festive jamboree!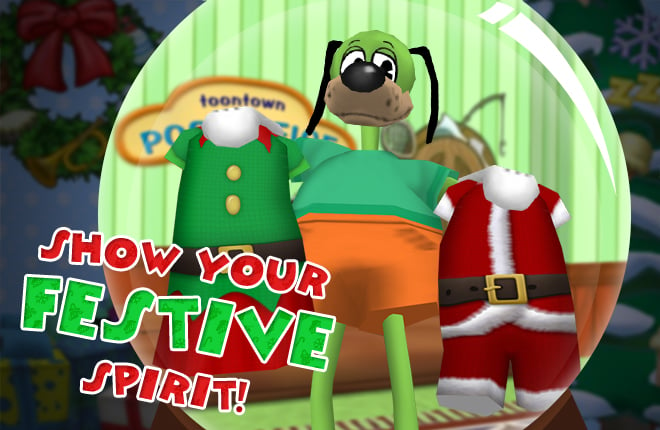 Ahh... the Toontown Post Office feels extra warm and cozy thanks to the new shipment of SantaToon and Elf Outfits that arrived this morning. They're warming me up better than that darn heater in the mail room. No matter how many fire-starters I use, that box can't even keep the smallest fire going! I'll have to talk to Shorty Fuse over at The Kaboomery to see what he can do about it.
I feel bad hoarding these fashionable holiday garments all to myself, though. They were made for winter festivities, not temperature control! Here. Why don't you have one? Just use the code "coming-to-town" for a SantaToon Outfit or "on-the-shelf" for an Elf Outfit! Remember, you can enter special codes like these on the first page of your Shticker Book. I'll be shipping them out from now till' 11:59 PM Toontown Time (PST) on December 30th -- so don't delay!
Anyways, I think it's about time I make the switch from heater to fireplace. Shorty is in one of his... moods again. I'll be able to have a super-strong fire to keep me warm without having to talk to The Power House down the road or Shorty to keep the explosions happening. Now, in order to get my hands on a fireplace, I'll need my Cattlelog. I know I left it lying around here somewhere...
Oh well. Anyway, Happy Holidays, Toontown!
---
Comments
Sorry! Comments are closed.
---
---
---
---
---
---
---
---
---
---
---
---
Back To Top