More News
Dreaming of an Orange Christmas
Posted by Doctor Surlee on December 24, 2019 at 2:00 PM
On the tenth day of winter, Toontown gives to you:
A Polar-Palooza,
Twice the Gag experience,
Fuzzy festive outfits,
Ruby-red-nosed Reindeer,
Blankets of soft snow,
A MEGAAAAAA COG INVASION!
(bum bum bum...)
Soulful singing Snowtoons,
Jolly winter jams,
Out-of-this-world ornaments,
And the start of a festive jamboree!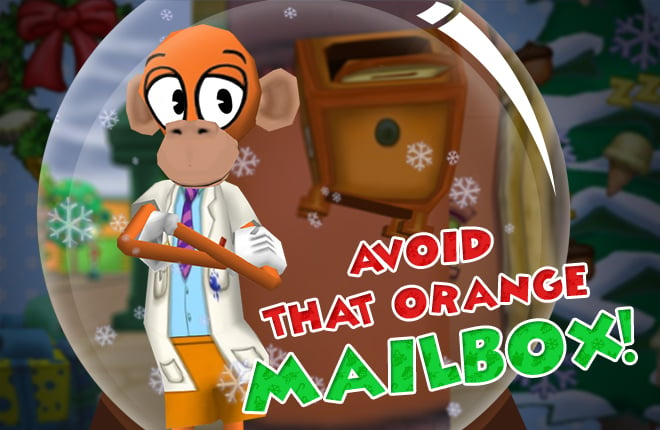 Happy Holidays, Toontown! How are the winter festivities? I wish I could join you, but this mailbox decided to mess with my mail again. Year after year this overgrown tin can keeps shoving me around. All I want is my mail! None of the other mailboxes are like this. So, what gives? Luckily, I am a Toon of Science! I've come up with a list of hypotheses that present different reasons as to why this mailbox has a case of the holiday hoopla.
There's plenty of good hypotheses. Perhaps the mailbox has indigestion and needs medicine. Maybe a wizard cast a spell on it and now it can only swallow mail. Could a Cog have dropped a shredder down its gullet, shredding all the mail? Bah! I know none of those are true, this mailbox has had it in for me for years. There's only one logical explanation, the mailbox is jealous that I am more orange than it.
I've never been able to communicate with mailboxes until the completion of the Silly Meter. This year -- I'll finally get that mailbox to crack. Luckily, that mailbox sits on Tutorial Terrace, so as with every year I'll be able to greet new Toons as they dash into Toontown. I encourage every new Toon to greet me with a jolly 'Merry Christmas!' I've also got a polar surprise for new Bear Toons entering Toontown -- just as Slappy used to do. Sigh... but I musn't dwell on the past.
Now, for the experiment. Hmm... I think I'm more of a Tiger Orange and the mailbox is more of an Apricot. Or maybe Marigold. Where is my color wheel? I need gradients and charts, STAT!
---
Comments
Sorry! Comments are closed.
---
---
---
---
---
---
---
---
Back To Top